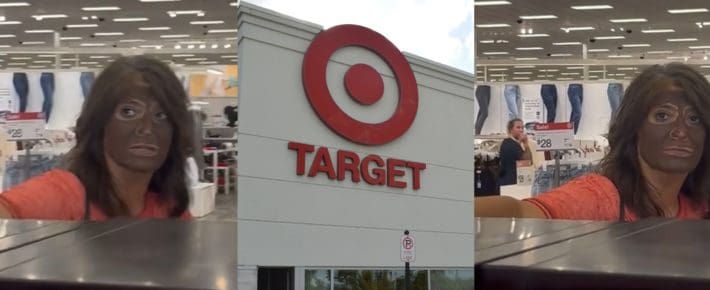 A white woman who painted her face black terrorized staff in Target and demanded to know where the Pride section was.
via: New York Post
Ersilia Campbell walked into an Aurora Target store with her face smeared in dark makeup earlier this week, a video obtained by TMZ shows.
"Lester Holt did 'whiteface' and nobody said s–t," Campbell can be heard telling an employee who confronted her about the offensive face paint.
NBC journalist Holt, who is black, dressed up as British singer Susan Boyle for an episode of the "Today" show over 10 years ago.
Campbell also demanded to see the store's Pride section, and became frustrated when the gobsmacked workers told her that Pride Month ended in June.
"Oh, I thought they were celebrating this and they took our flag forever, no?" Campbell retorted, presumably referring to LGBTQIA+ Pride's signature rainbow flag.
"I don't shop at Target," she grumbled as she strutted out of the store.
But her bizarre, racist behavior was far from over.
Later that day, Campbell posted a selfie video from a local Starbucks, where she was still in blackface and had Donald Trump campaign stickers on her Mickey Mouse shirt.
"I never treat myself to Starbucks since the post office got rid of me," she said.
"Trump is coming … I'm showing my t–ies," she joked, leaning back to show off the two stickers.
Campbell's LinkedIn lists her as an operations supervisor at the United State Postal Service, but she was let go in February, TMZ reported.
In the Starbucks video, however, Campbell tells the camera that she is on her "way to the post office for a job."
"They will never recognize my picture now," she giggles maniacally, referring to the blackface.
On Tuesday, the USPS distributed a bulletin to current employees that identified Campbell as a trespasser, according to a photo obtained by TMZ.
The paper urged workers to alert the Postal Inspection Service if she returned.
Campbell also previously ranted against her former co-workers, whom she called "some of the loneliest, miserable, trashiest, lazy people in my life," the outlet said.