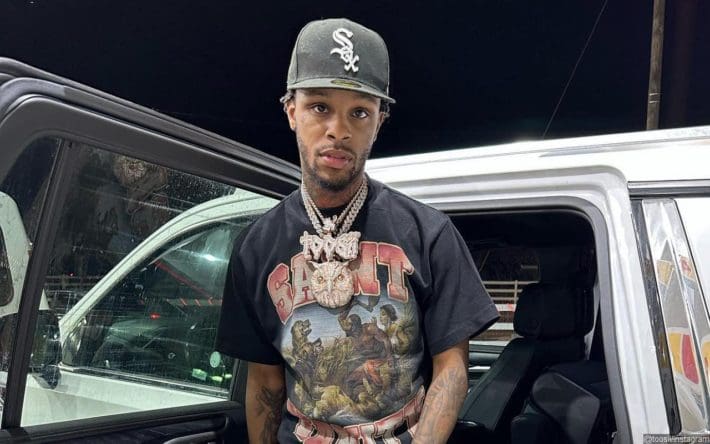 Toosii is not bothered by people questioning his sexuality since he's confident in himself, but he wishes being called gay wasn't used as an insult toward others.
via: AceShowbiz
When making an appearance on "The Baller Alert Show", the "Favorite Song" rapper opened up about his thoughts on swirling speculation that he is gay.
In the Thursday, June 15 episode of the show, the 23-year-old stated, "It don't really bother me." He went on to explain, "I think the biggest thing that bother me is when people play with me. I would never let nobody play with me while my son is around."
On the reason why, the "Poetic Pain" artist elaborated, "My son gotta get on the internet one of these days, and the internet is forever and he gotta see this." He additionally declared, "I don't got no problem with the LGBTQ community."
"At the end of the day, calling someone gay is not an insult. People try to use it as an insult but its peoples sexuality. So don't try to throw it on a Black man to down him. That's not gonna bring me down," he continued.
Previously, Toosii warned an online troll to "stop playing" with him after his sexuality was being questioned by the troll. "Everything a n***a do in this generation be fruity to y'all. Y'all see a n***a in person and be ready to suck a n***a d**k though. Stop playing with me when my [son is in] my hand, b***h," he said in a video uploaded on his Twitter account.
Toosii's warning came one day after he shared on Twitter a slew of photos from his son's birthday bash. The photos captured him holding his son. In the snaps, he could be seen wearing a sleeveless colorful knitted top, a pair of light-blue jeans with some cuts on it and an ivory-colored cowboy hat.
Along with the pictures, Toosii wrote in the tweet, "Dada was a cowboy yesterday." He also added a red heart emoji at the end. In the replies section, one user commented, "Y'all sure he not [fruity]????"