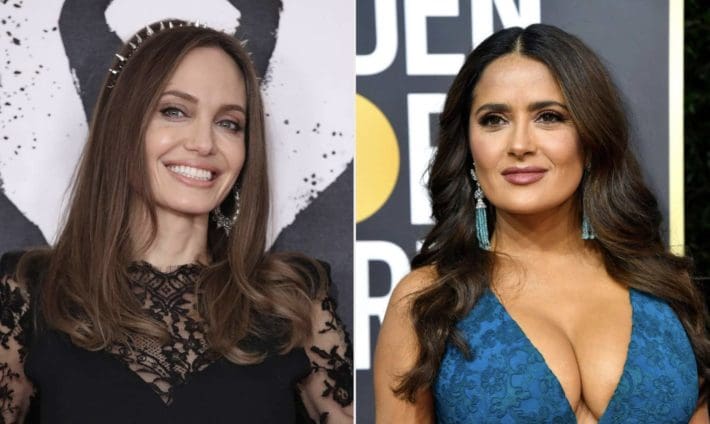 Salma Hayek and Angelina Jolie's friendship has been delighting fans of the talented actresses for years.
via: Radar Online
Hayek, 57, is reportedly trying to play matchmaker for her famous friend, Jolie, 48, after the single star's nasty divorce from ex-husband Brad Pitt, 59, RadarOnline.com has learned.
Hayek allegedly raised the bar for potential suitors and found an eligible billionaire beau for the Eternals star.
Like any good friend, Hayek was said to have Jolie's best interest in mind when playing Cupid.
"Following Angie's disastrous relationships with actors – including her crash and burn marriages with Brad Pitt and Billy Bob Thornton — Salma thinks it's time for Angie to try something new," spilled an insider on Hayek's alleged matchmaking endeavors.
"She's got her eye on a few eligible businessmen who would know how to handle dating one of the world's most famous women and is hard at working trying to set up Angie with dates," the source continued, according to the National Enquirer.
When her romances with actors Josh Lucas and Edward Norton didn't work out, Hayek learned a thing or two about billionaire businessmen. She ended up marrying one — and now has a 16-year-old daughter with French magnate François-Henri Pinault, 61, whose estimated worth is about $36 billion.
"Not only are Salma and Angie best friends, they also know each other's children," the insider continued on the close friends. "Salma doesn't just want to see Angie with a great man. She also wants to see Angie's children with a great father."
After Jolie filed for divorce from Pitt in 2016, the couple's children were put in the crosshairs of their parent's long drawn-out legal battle. Making matters more complicated, as the couple's divorce dragged on, several of their children — Maddox, 21, Pax, 19, and Zahara, 18 —reached adulthood in the process.
Additionally, the remaining minors caught between their parents — Shiloh, 17, and twins Knox and Vivienne, 14 — had reached ages where they could have their own say considered in custody matters.
While she battled Pitt in court over custody and their estate, Jolie recently dipped her toes in the dating pool. Back in December 2022, RadarOnline.com reported that Jolie was dating again — and had her fair share of fun with much younger men.
"She gets a thrill out of arranging to meet up for an afternoon tryst," an insider said of Jolie at the time.
"She's very alpha about the whole thing. She makes the guys sign NDAs, arranges the hotel suites — never under her own name — and she sets the time and never, ever spends the night," the source said while noting, "She's never going to sign up for apps or take a chance on someone who doesn't have the seal of approval of someone she trusts."