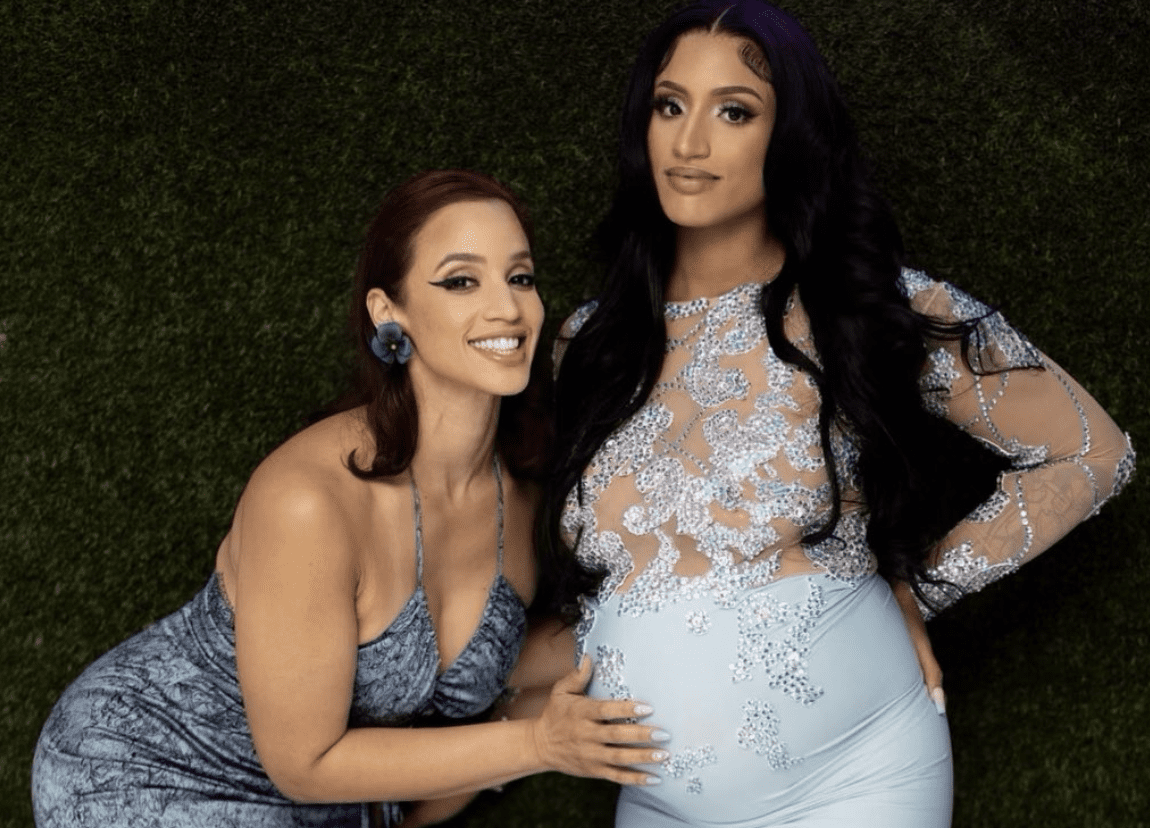 Dascha Polanco announced that she is going to be a young 40-year-old grandmother.
via People:
Last week, the Orange Is the New Black alum revealed that her daughter Dasany Kristal Gonzalez is expecting. 
"I just got a promotion ," Polanco wrote on a photo of herself smiling as she cradled her daughter's belly. Both ladies wore blue dresses for the occasion. Gonzalez, 20, shared images from the baby shower earlier this month.
"We already love you to the moon and back .. countdown till your arrival baby boy," she captioned an Instagram carousel on Sept. 3.
In the first slide, Gonzalez stood alone as she held her growing stomach. In other photos, her partner joined her as they posed together, sharing a sweet smooch in one of the pictures. 
A photograph uploaded of the event's signage revealed the baby shower for "Dasany & Dione" took place on Sept. 1. A cake, balloons and treats were just some of the items seen to celebrate the special event. 
The last picture showed mini wines that guests were treated to as party favors, thanking them for attending the baby shower. 
In 2020, Polanco opened up to Parents Latina for their June/July cover story about being a young, single mom. The In the Heights actress had Gonzalez when she was just 17. 
Polanco detailed not being financially stable when she was pregnant, and feeling judgment from those around her.
"One night, my best friend's father said, 'What you're doing is horrible,' and he embarrassed me in front of everyone. I'll never forget that," she recalled. "But I was making the best decision that I could. I knew that having a baby was going to make my life harder, but I was also determined to turn every obstacle into a blessing."
During the interview, Polanco confessed that while she spent the next four years in college, she "wouldn't tell people" she was a mom. "I'd let them find out, and when they were like, 'You're a mom?!' I pretended I didn't care," she said at the time. "But it made me feel self-conscious and affected my confidence."
The iGilbert star added that her own mother "cried so hard" when she discovered that Polanco was pregnant. Her mom later died while Polanco was still enrolled in college. 
Polanco said as a young child, Gonzalez would "actually call my mom Mami and me Dascha-Mom."
"One day I finally opened up to one of my psychology professors," the actress told Parents Latina. "I told her I hated being a mother, and ever since my mom passed, I didn't celebrate anything. She told me the reason I got angry was that I had a subconscious jealousy of my daughter, because she had her mother and I didn't have mine."
Polanco welcomed her second child, a son named Aryam, when she was 25.
Congrats to Dascha and her family.
View this post on Instagram