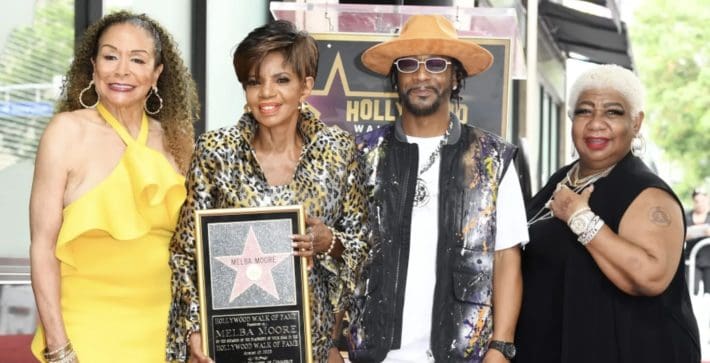 Katt Williams is receiving praise from fans after Melba Moore revealed that he covered the cost for her Hollywood Walk of Fame star.
via: Vibe
On Thursday (Aug. 10), Melba Moore became the 2,760th person to receive a star on the Hollywood Walk Of Fame. The Tony-winning actress' star was part of the Live Theatre/Live Performance category. She was joined by Jimmy Jam, Sheryl Lee Ralph, Katt Williams, Luenell, and Freda Payne, who all spoke during the ceremony about Moore's personal and professional impact.
However, she felt she wasn't going to be the only person receiving their well-earned flowers that day. She revealed that it was the comedian who footed the full, alleged $75,000 bill associated with receiving a star.
"@kattwilliams A public thank you to KW. He is the sole sponsor of my Star ………I am still in shock," said Moore on Instagram. "Katt, in me you have a Friend. Love Melba Forever Moore."
Williams began his remarks with a joke saying ChatGPT gave him the same speech as Jimmy Jam, so he'd have to "go somewhat off the cuff."
Quickly reverting to a more serious note, the 51-year-old continued, "We are here to honor the extraordinary life and achievements of a true legend. In this day and age, we call somebody a legend if they've been doing something for 20, 30 years, but to be at the top of your craft in stage, television, music, and film, there really has never been anything like it. I looked up who paved the way for Melba Moore. Who was the person that excelled in all of those things and I found out that that person did not exist. Melba Moore is one-of-one in our industry and that's what we're celebrating."
The First Sunday actor added, "As a young man with a mustache growing up in Dayton, Ohio, I thought that Melba Moore exemplified the elegance, grace, dignity, and strength of the Black woman. This strength and her ability to turn adversity into fuel for her art is a testament to her unwavering determination… True greatness extends beyond the boundaries of talent alone."
Ahead of the ceremony, the 77-year-old shared her sentiments on the feat via Instagram. "As I look back over my life in Harlem / Newark [New Jersey], I am proud. Receiving a Hollywood Star made me reflect on the goodness of God. It took me a lifetime to get here. I am a late bloomer. I am still trying to find the words," she wrote.