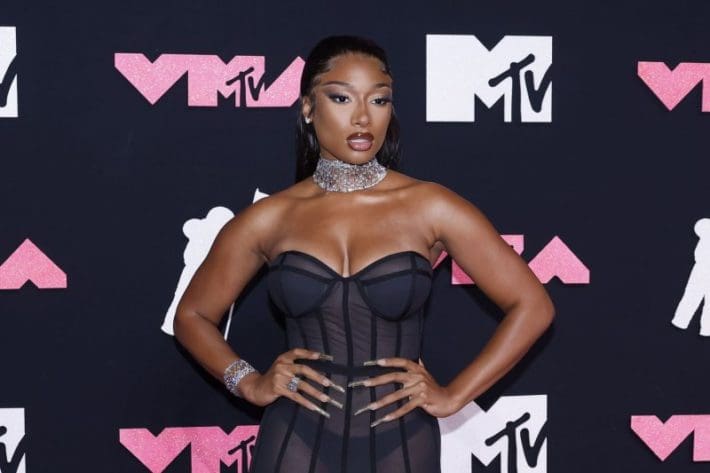 Netflix's raunchy animated comedy Big Mouth has seen its fair share of guest stars and rap references. The latest addition to its cast might be one of its most perfect, though, as Megan Thee Stallion has been announced to guest star as a bootylicious Hormone Monster.
via: HotNewHipHop
Megan was announced in a 48-second short dedicated to both her character and the Season 7 date reveal. She will play a caked-up hormone monster ready to cause trouble for the already embattled eighth-graders. While the show has proven divisive, Megan joins what is one of the most stacked casts on TV right now. Big Mouth already features Nick Kroll, John Mulaney, Jessi Klein, Jason Mantzoukas, and Ayo Edebiri.
However, Big Mouth is far from Megan's only project in the works. Last year she camoed in She-Hulk and also flexed her comedic muscles during a hosting slot on SNL. Meanwhile, she has a leading role in Dicks: The Musical, A24's upcoming musical comedy. Furthermore, she is also reportedly in negotiations for a role in an upcoming project from the Safdie Brothers and Adam Sandler. If you're unfamiliar, the Safdies directed Sandler in Uncut Gems.
However, being bootylicious in animated form isn't the only thing that Megan has been making headlines for. With a spotlight at the VMAs, Megan took the opportunity to squash any rumors of beef between her and Justin Timberlake. After a video emerged appearing to show the pair arguing backstage at the event, Megan went to find Timberlake to help dispel the notion that there was beef. The pair filmed a jubilant TikTok together as way to let everyone know that it was all good between them.
Meanwhile, a recent scheduling change from Megan has also got people speculating about a fire collab. Megan recently announced that she would no longer appear at the Global Citizen festival in late September. This has led fans to wonder if Megan dropped out to go to Houston instead of New York. September 23, the date of the GCF, is also the same day that Beyoncé is performing in her hometown of Houston. While Megan is not from Houston, she is also a Texas girl. Regardless of what happens, it's an exciting time to be a Megan Thee Stallion fan.
Megan Thee Stallion joins the cast of 'Big Mouth' Season 7. pic.twitter.com/PLTJrz6xgr

— Pop Base (@PopBase) September 14, 2023