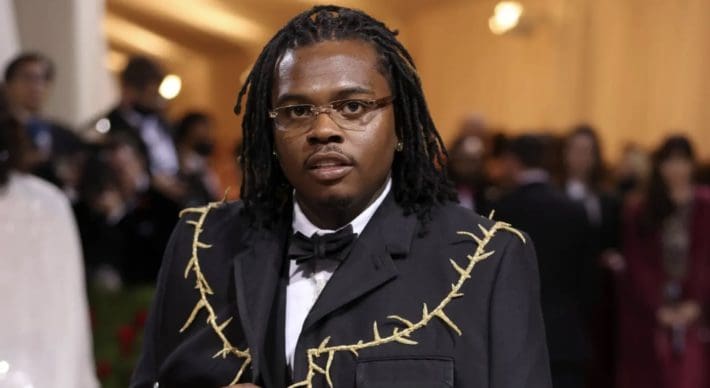 Earlier this week, Gunna celebrated his 30th birthday by announcing a project called A Gift & A Curse. It was not clear whether this was just a song or a full-blown album; it's out today, and it's a 15-track LP.
via: Rolling Stone
The 15-track album is a fully solo affair with no features. On several songs, Gunna appears to address his arrest, the fallout from his plea and the snitching accusations that have dogged him since. Back in December, Gunna took a "best-interest plea," meaning he maintained is innocence while accepting a plea and the repercussions of a guilty verdict. While Gunna neither cooperated with the prosecution, nor testified against any co-defendants, he's faced backlash from both fans and peers.
On one song, "Rodeo Dr," he raps about confronting those who've been "claiming I ratted," before boasting about being "on the yacht with my muthafucking shirt off, look at it, my whole body tatted." Pointedly, Gunna appears to rebuff the snitching rumors in a direct message to Young Thug, who was also arrested in the same case and remains in jail awaiting trial.
On "I Was Just Thinking," Gunna says, "There's four walls talking to you, telling you you gone/Only I done cried caus? this feeling for my bro (King Slime)/And you know my mind, you done watched that n*gga grow/Know you hearing the lies that your lil' brother might fold/Yeah, I had popped out, but don't let 'em say I told."
Among some of the other ostensible allusions to the case and plea fallout include these lines from "Back to the Moon": "You get caught, gotta know how it go/'Cause this shit could get tricky fasho/Rich enough to get put in a hole/Got a crew but I been all alone." And on "IDK No More," Gunna raps, "It's always been your plan, you just ain't have no way to do it/Remember we was cool? I gave you shit when I didn't use it/Let me get that money back, I hope you ain't ran through it/Wanna know how Wunna feel? Then listen to my music."
Despite everything, there's plenty of defiance and resilience in Gunna lyrics, with the rapper spitting on "Paybach," "I made a few mistakes, but I'm still a star/I hate the government, tryna tear us apart/But I'ma keep it going, that's what's in my heart."
A Gift and a Curse follows Gunna's 2022 album, DS4Ever, which was released last January, just a few months before the sweeping arrests in the YSL gang case. He announced the album only a few days ago, and earlier this month released the single, "Bread and Butter." (That song also featured lines about being "the topic of the chat," and nods to the snitching claims: "You switched on me when you know you in business with a rat/And the boy that's like your brother, and nobody speak on that.")
As for the YSL trial, it's been moving at a glacial pace. As Rolling Stone recently reported, jury selection began back in January but is still going on. The court must ultimately find 12 people who'll be available for what could be a six-to-nine-month trial, a difficult task in and of itself, exacerbated by other factors. For instance, the notoriety of the case makes it hard to find jurors without preconceived notions. Additionally, multiple defendants are being tried simultaneously, meaning every defendant's lawyer has an opportunity to question every prospective juror. It's likely that jury selection will not be done until August.
Listen to "I Was Just Thinking" below.