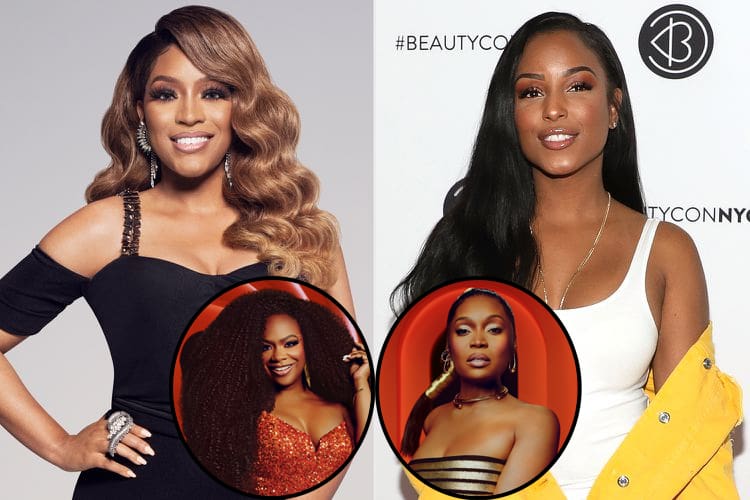 B. Scott exclusively revealed while co-hosting Thursday's episode of 'The Breakfast Club' that the 'Real Housewives of Atlanta' ladies got into some drama after a recording surfaced during their cast trip to Portugal — and now we have a few more details to share.
As it turns out, some of the drama revolves around Drew Sidora and her relationship with former friend of the show LaToya Howard (formerly LaToya Ali).
In a series of clips exclusively shared with lovebscott.com (that we're not posting out of respect for our sources), Drew can be heard explaining to the girls how LaToya lied to everyone about 'f*cking' Drew's longtime friend, Prophet Lott.
Drew can be heard saying. "She a very sexual person. She has no problem licking her tongue out [inaudbile]. Like.. all the time.That's just Toya — and it's crazy. She's just always in heat."
In one of the clips, Marlo can be overheard asking Drew to clarify. "So, Toya be lying too — you're saying?"
To which Drew responds:
"[She told me] and Ralph explicit details and she apologized to both of us. She f*cked the prophet and she gave me explicit details of how she f*cked the prophet and what happened!"
In another clip, Drew is on speaker phone with someone while denying allegations that she and Toya kissed. It's unclear from the clips what night everyone is talking about, but we're going to assume they're talking about that night at Cynthia's bachelorette party when everyone got drunk with Bolo the stripper.
Back ahead of 'RHOA' season 13, lovebscott.com exclusively revealed that some of the ladies got together for some naughty fun — and a couple even got their peaches cobbled by Bolo.
It was after that night Tanya Sam fled to Canada and was never to be found in these 'RHOA' streets again…but we digress…
"I never kissed her mouth, she never kissed my mouth," says Drew in the recording.
"Y'all definitely kissed!" Kandi can be heard exclaiming in the background.
"Toya did kiss your mouth, why you lying?" Marlo chimes in to refute Drew's denial.
"AND NOW MARLO'S SAYING IT!" a riled-up Kandi points out to the group.
The ladies then all seem to get on the same page about what happened while Drew's still on the phone recollecting details.
"That never f*cking happened," says Drew. "So…you're saying I was pulling your wig?" we hear Drew ask before the clip abruptly ends.
In the final clip, Marlo can be heard telling Drew why she doesn't really believe her allegations.
"It's not that we won't believe Toya, but she's a real bitch and she's an Aquarius like me," says Marlo.
"But she also lies a f*cking lot, " responds Drew.
"I don't know if she lies," says Marlo.
There's also reference to someone using the expression "the pot calling the kettle black" when referring to both Drew and LaToya as being liars.
Why a former friend-of-the-show who hasn't appeared on 'RHOA' in several seasons is being talked about so much during this cast trip to Portugal is beyond us — but these recordings might explain why LaToya popped up to a few group events during season 15.
It's unclear if all — or any — of this conversation will make the final show edits, but we're holding onto our receipts just in case we need to put anyone on front street!
As always, keep your eyes on lovebscott.com for more exclusive 'RHOA' tea!