When Zion Williamson's girlfriend announced the couple is expecting a baby, it set off alarm bells for adult film star Moriah Mills.
via: Complex
Moriah Mills, took to her Twitter on Wednesday with a series of tweets dragging the NBA All-Star forward for his pregnancy announcement. Mills wasn't too happy with the news and proceeded to air out Zion with messages the two exchanged at an undisclosed time.
In her first set of posts, Mills shared an image where Zion reached out to her through Snapchat, telling her how much he loves seeing her in a pair of jeans and wanting to talk to her about moving to New Orleans.
"I hate you .. ong [dead rose emoji] #ZionWilliamson looks like you been had a girlfriend and sleeping with other women behind my back. @Zionwilliamson you liar !!!," she tweeted before alleged she could be pregnant with his child as well. "Better pray I'm not pregnant too because I'm definitely late @Zionwilliamson."
She continued, "I was with you last week in New Orleans and you couldn't tell me you had a random thot pregnant after all I've done for you @Zionwilliamson. I let you fuck me so many times without condom and this is what u do to me a hood rat that does cpn."
Mills said Zion was putting her "life in danger fucking all these hoes raw" while claiming she tried to tell him about "trapping type hoes." She also took responsibility for motivating him to get back in shape following his weight gain and allowed him to have sex in whichever way he wanted.
The tweets got more personal when Mills said Zion's baby mother was toxic and made him gain weight. She added that she's upset because Zion allowed himself to get finessed and is done with him. However, she had a quick change of heart when she started dragging Zion's baby mother.
"Why be a low budget baby mom when you can be the kept girlfriend," Mills tweeted. "I guess imma be step mommy you not fucking up me and @Zionwilliamson plans baby or not it is what is off this. You need a baby to get a bag. I get it just cause we not on the same level."
She continued, "I'm in Atlanta hoe see me in December or should I say at my new condo in New Orleans @AhhConcreterose we sister wives now get wit or get lost .but imma get more always [clown emoji] he don't play about me when it come to spoiling I'm his princess you a burnt out baby mom."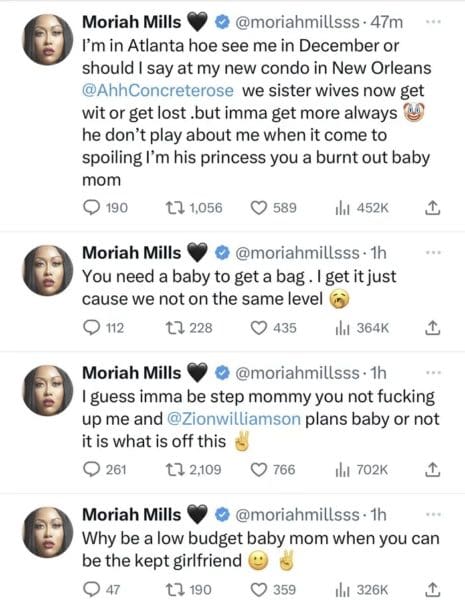 Zion Williamson revealed he was going to be a father with a gender reveal video on Tuesday. His girlfriend Ahkeema posted a four-minute YouTube clip on her channel, highlighting the special day. At the beginning of the recording, the soon-to-be girl-dad said, "My baby, you're going to see this at some point. I don't know what the future holds, but mommy and daddy love you."
Williamson concluded as he held onto Ahkeema, "If you don't know nothin' else in this world, know that mommy and daddy love you for life."