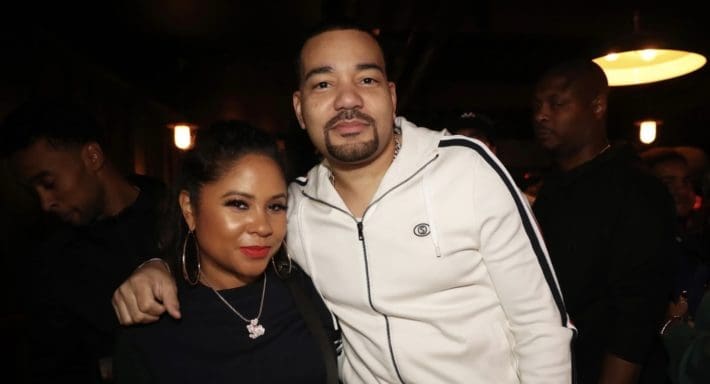 DJ Envy and Angela Yee have responded to each other after Yee's recent initial comments about The Breakfast Club.
via: Vibe
Angela Yee's Twitter bio boasts that she'd "rather be hated than a hater." It seems this sentiment is one she holds close to her heart following her official exit from The Breakfast Club and a slew of subsequent backlash.
She first hinted that she would be departing from the radio show after 12 years on August 9, 2022 via Twitter. However, it's been a few weeks since that decision became concrete, leading to tension surfacing between her and her former co-host, mainly DJ Envy.
During Yee's recent appearance on The Tamron Hall Show, she detailed her experience as the controversial show's sole female host.
"Sometimes, I would feel like I got it harder than he [Charlamagne tha God] did for some things that he said […] But it's hard because people affiliate you with the whole group. And that was part of why I really wanted to have my own show because now what happens is I'm accountable for that. But when you have three different people with three different opinions or three different viewpoints and completely different personalities—we're all individuals but sometimes it's hard for people to separate that. I was the only woman who worked there too, I mean when it came to producers, camera people—and it wasn't an easy room for me to be in," said the 47-year-old.
Envy denounced her statement promptly in The Shade Room's comments. "That's just not true," he wrote. "There are plenty of women that work behind the scenes on @breakfastclubam." In a separate interview, Envy went into depth expressing that he felt Yee "misspoke."
"It was her, Charlamagne and myself, so she was the only woman on air," he explained. "But behind the scenes, I mean, our boss—the actual person that pays our bills and pays our checks and hires us—is Thea Mitchem, who's a woman. I think she misspoke, I think the words were taken out of I guess technicality. I'm sure she would clean it up, but there's a lot of women who work on that show."
Yee turned to Twitter to address his comments. "Usually I don't comment or go back and forth with people, but there's too much spinning," she began. "'In the room' referred to the people in the studio: the producer, board op, videographer, and hosts. Yes, they are men. That doesn't mean that there aren't amazing women who are execs, salespeople, interns, and in other departments."
Usually I don't comment or go back and forth with people but there's too much spinning. "In the room" referred to the people in the studio: the producer, board op, videographer and hosts. Yes they are men. That doesn't mean that there aren't amazing women who are execs,

— Angela Yee (@angelayee) March 5, 2023
salespeople, interns, and in other departments. I've said this on many occasions: that it can be hard when your viewpoint is different based on your experience. I didn't anticipate that this would cause such a firestorm. Everyone texting me "are you ok" (which I appreciate!) and

— Angela Yee (@angelayee) March 5, 2023
I know I don't normally take the time to overexplain because it drags things out even more but that's all ?????

— Angela Yee (@angelayee) March 5, 2023
The Lip Service host continued, "I've said it on many occasions: that it can be hard when your viewpoint is different based on your experience. I didn't anticipate that this would cause such a firestorm."