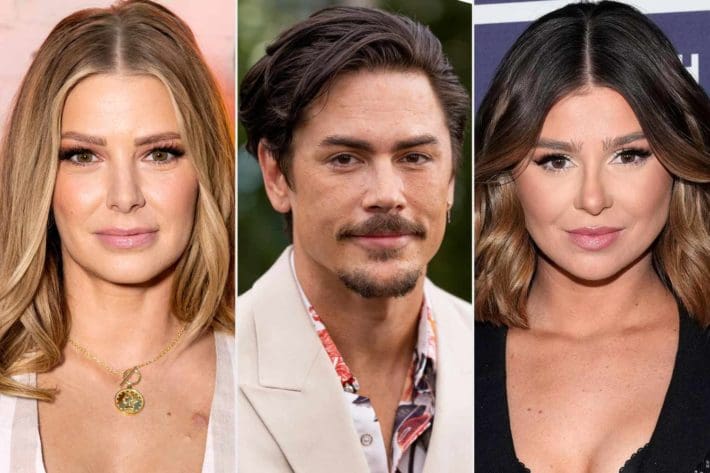 'Vanderpump Rules' star Tom Sandoval is speaking out amid his cheating scandal that led to his break-up with longtime girlfriend and castmate Ariana Madix.
via: People
On Saturday, the musician, reality star and restaurateur shared a statement on Instagram about the split, asking fans to direct their anger away from his loved ones, including cast mate and business partner Tom Schwartz.
"Hey, I fully understand and deserve ur anger and disappointment towards me, but please leave Schwartz my friends and family out of this situation…," Sandoval, 39, wrote, noting that Schwartz "specifically only found out about this very recently, and most definitely did not condone my actions."
"This was a very personal thing," Sandoval stated.
PEOPLE reported on Friday that Sandoval and Madix, 37, had split after 9 years together. Their relationship fell apart, sources said, on Wednesday night when Madix — while supporting her then-boyfriend's band, Tom Sandoval & the Most Extras, perform in Los Angeles — saw inappropriate messages between Leviss and Sandoval on his phone.
The secret romance caught Madix by surprise. "This has been going on for upwards of 6 months — all the while, Tom was sleeping next to Ariana in bed," one source told PEOPLE. "She was completely blindsided by this; devastated doesn't even scratch the surface of how she feels."
"This is someone she thought she knew; someone she planned to spend the rest of her life with. You can't even put into words that betrayal," the source added.
Also on Wednesday, on the other side of the country, Leviss, 28, made an appearance with Scheana Shay on Watch What Happens Live with Andy Cohen where she defended her decision to kiss Schwartz on the show despite his divorce from her friend, Katie Maloney.
"I'm just trying to live my life and I'm sorry if that offends people, but it's not going to stop me from doing what I'm going to do," Leviss said, later giving Andy Cohen a TomTom sweatshirt as a gift.
After the taping, Leviss admitted to Shay the truth about her and Sandoval, a separate insider told PEOPLE.
"Scheana was furious," the source said. "She and all the Vanderpump Rules costars have rallied around Ariana during this time. They can't believe Raquel would do something like that."
Reality show cameras have also been capturing their reaction in real time. A production source told PEOPLE that Bravo and production company Evolution began filming again to follow the fallout of the affair. The footage is expected to be incorporated into the 10th season of the show, which is currently airing Wednesday nights.
Fans, meanwhile, have had a field day with the news, flooding the social media pages of Sandoval's bar and cocktail lounges — TomTom and Schwartz & Sandy's — with negative comments.
In his statement on Saturday, Sandoval asked fans to show the establishments some grace.
"Schwartz & Sandy's might have my name on it, but also there are 3 other partners and 20 employees, who especially rely on the restaurant for income for them and their families," he said. "Just like TomTom, I'm a small part of a much bigger thing. Please direct ur anger towards me and not them. They did nothing wrong."
He went on to apologize to his partners and his employees who "have to suffer for my actions," adding that he will be removing himself temporarily from the businesses.
"I will be taking a step back & taking a hiatus out of respect for my employees & partners," he said. "I need some time to address everything else."
"Sorry for everything—," he signed the note.