Dwight Howard has been slapped with a lawsuit accusing him of assaulting a man he met on Instagram and attempting to force him to have a threesome.
via: Radar Online
In the lawsuit exhibits obtained exclusively by RadarOnline.com, Howard's Instagram handle and blue checkmark are on display. According to Stephen Harper, the two met on the social media site when the accuser slid into the basketball star's DMs using his "secondary Instagram account" on May 29, 2021.
In the lawsuit, filed with shocking allegations, Harper alleged that Howard responded to his Instagram message by texting him the devil emoji. After allegedly sending Howard his cell phone number, Harper claimed their conversation got spicy.
RadarOnline.com has attempted to seek comment from Howard. He has not yet responded.
"I gotchu papi also what are you into? you like freaky s—?" one text from Harper read, to which Howard allegedly responded, "Yes I'm into freaky s—. Now I want you to know I'm not gay or anything. I'm jus alil nasty sometimes. Ion wanna offend you."
In the alleged screenshots, attached to the lawsuit, Harper replied, "Yes & I understand sexy, we grown I'm not offended at all."
Later that day, Howard allegelly asked Harper, "U have some c– shots lol." When his accuser responded, "I don't. I can make you some personal ones though," he claimed the NBA star wrote back, "I jus wanna see ur [eggplant emoji]."
On July 19, Howard allegedly texted Harper he was "thinking about that meat," later reportedly telling him, "I want it." When Harper asked "when," the baller allegedly coaxed the man into coming to his home.
When Harper asked who was at Howard's residence, Dwight allegedly answered, "Nobody my son in. His bed" and instructed Stephen he "would jus have to leave before everyone wake up," according to the text messages presented in court.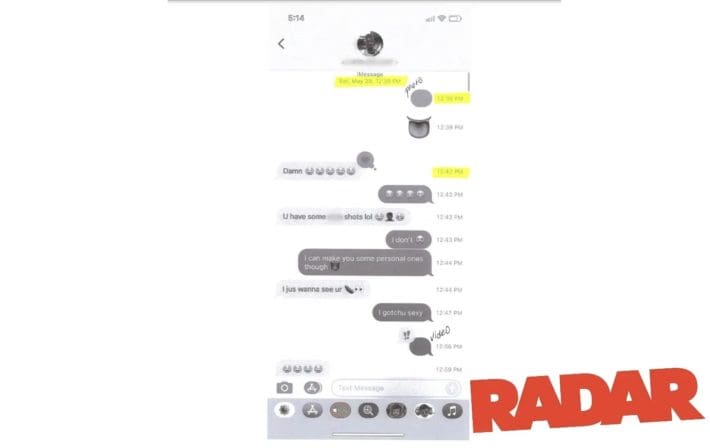 Harper included an alleged Uber receipt which he believes proves he took a ride to Howard's home.
The receipt showed that after Harper responded that he was "on my way," Howard allegedly asked him, "U wanna have a 3 sum."
When he asked who the threesome would be with, the athlete's alleged response was "a dude" or "a girl," but revealed they "can't come till after 4."
The alleged Uber receipt showed that Harper ordered his ride on July 19 at 1:21 AM. It's roughly an hour and 40 minutes from the pickup and drop-off addresses listed.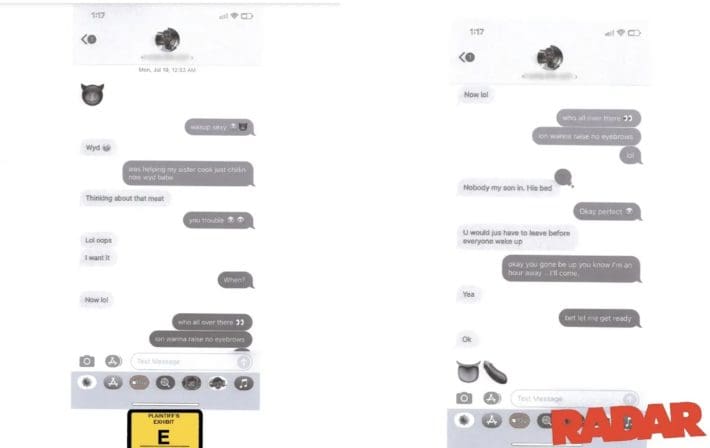 As RadarOnline.com reported, while Harper allegedly told Howard he didn't want to have a threesome, he claimed that a man dressed as a woman called "Kitty" later showed up at the NBA star's home. Harper alleged he told Howard he wanted to leave, but the NBA player convinced him to stay.
In the lawsuit, Harper claimed Kitty turned on an adult film and performed oral sex on Howard before the latter made a move on him.
The accuser claimed Howard grew angry when he verbally told him "no." He said he feared they would harm him if he resisted their sexual advances.
"Defendant stood up (towering over Mr. Harper), grabbed Mr. Harper by the thighs, forcibly removed Mr. Harper's underwear, held Mr. Harper down, and performed nonconsensual oral sex on Mr. Harper," the suit read. "Mr. Harper was in fear of imminent bodily harm when he was pinned down and forced to remain in place while Defendant continued to sexually assault him."
The suit alleged Howard then demanded Harper come to the bed. Harper claimed Kitty performed another sex act on the ex-NBA star while Howard allegedly shoved his penis into Harper's mouth.
The lawsuit accused Howard of assault, battery, intentional infliction of emotional distress, and false imprisonment. It's important to note that the athlete has never identified as gay or bisexual and has 5 children with multiple women.