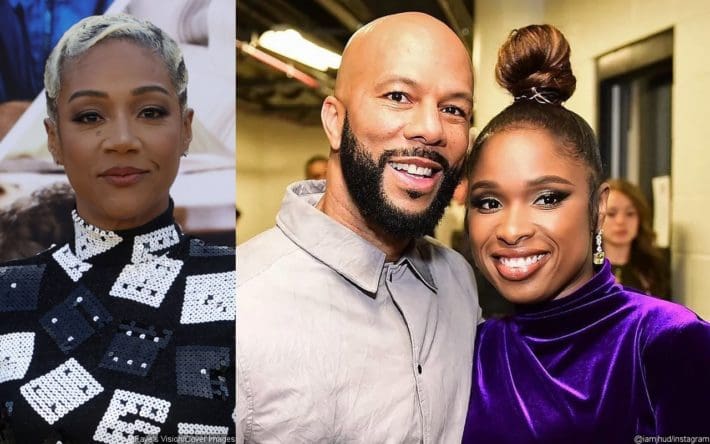 Case of the ex.
via: AceShowbiz
Tiffany Haddish has seemingly weighed in on Common's alleged relationship with Jennifer Hudson. The comedienne appeared to throw a subtle shade at her ex-boyfriend when addressing a pair of earrings that her fan gave to her through the rapper.
The fan wrote to Tiffany, "I'm still waiting to see if Common gave you the earrings I gave him for you when he came to Charlotte." Responding to the fan's question, the "Girls Trip" star said in a TikTok video, "Girl, he never gave me no damn earrings." She jokingly added, "He probably gave those to Jennifer."
Seeing the video, some social media users were upset that Tiffany brought Jennifer into the discourse. "Jennifer don't bother nobody…..," a fan of the "American Idol" alum reminded the stand-up comedian/actress.
Another warned Tiffany, "No she needs to watch her mouth! We barely like you." Another fan spoke in defense of J-Hud, "One thing I don't play about is Jennifer…girl most of us don't like you anymore Tiff."
"Now you watch yo mouth , watch yo mouth bout Ms Effie White !!!" a fourth user reacted. Someone told Tiffany, "PLEASE leave the EGOT alone !" while another noted, "A simple NO would've suffice."
Tiffany and Common began romantically linked to each other during the pandemic, in mid-2020. In November 2021, however, they called it quits after one year together. She is currently in a relationship with Bitcoin investor Marvin Jones.
Meanwhile, Common and J-Hud sparked dating rumors in July 2022 as they were filming the upcoming action thriller "Breathe" together. That month, they were caught on a date in Philadelphia where they were filming the movie.
While the two have not confirmed if they're an item, they continue to fuel the rumors with multiple outings together. On March 14, the "Respect" star even gushed over her rumored boyfriend in a birthday tribute.
"Team Jhud pls help me wish one of the brightest lights, a Chicago and hip hop legend, the one and only @common a very happy birthday on today !" so she posted on Instagram on Common's 51st birthday.