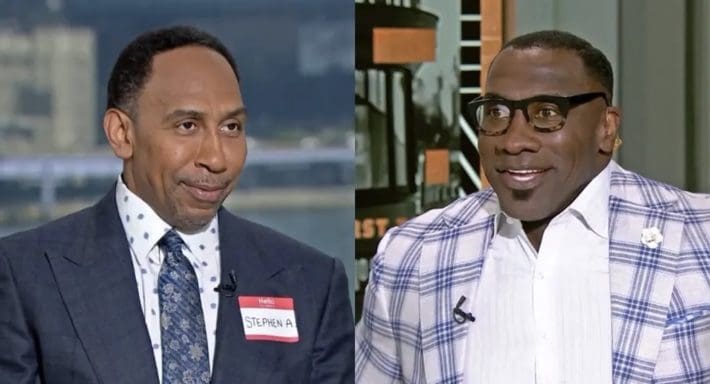 As the saying goes, old habits die hard. For Shannon Sharpe, that meant mixing up his old debate show co-host with his new one.
via: Sports Illustrated
The Stephen A. Smith vs. Shannon Sharpe duels on ESPN's First Take have begun, and Smith won the first in hilarious fashion.
Sharpe accidentally called Smith "Skip" during a debate on Monday's show, the first time the two had appeared together since the new partnership was announced in August. Smith had the perfect response Tuesday, busting out a nametag during the show's open with Sharpe as a reminder.
Shannon Sharpe calling Stephen A Smith Skip.. Uh Oh! pic.twitter.com/Z0Vty2iJX9

— Jasone Pearson (@806hsscmedia) September 4, 2023
Shannon Sharpe: "You know what, Skip [Bayless]?"

Stephen A. Smith: "It's okay. It's okay."

Shannon: "It's been 7 years." ?pic.twitter.com/3JiOOSXvPT

— ClutchPoints (@ClutchPoints) September 4, 2023
Sharpe, who sat besides Skip Bayless for years on FS1's 'Undisputed,' took it well, bursting out into laughter before seemingly ribbing Stephen A. for his struggles pronouncing longtime First Take host Molly Qerim's name.
Hope this helps you out @ShannonSharpe pic.twitter.com/Mnfau0pqDM

— Stephen A Smith (@stephenasmith) September 5, 2023
— Stephen A Smith (@stephenasmith) September 5, 2023
The early banter seems like a great sign for the future of the show. Sharpe and Smith will share the airwaves on Mondays and Tuesdays, which should produce plenty of viral moments throughout football season.
Fans loved Stephen A's antics:
Not the name tag? https://t.co/M1yXjQ18aT

— Salt ?? (@SaltyMusicStan) September 5, 2023
???? this season should be hilarious fr LOL https://t.co/IfToDAKegW

— Sheku™ (@JustSheku) September 5, 2023
Hilarious https://t.co/RXp9foSysA

— Rapheal Davis (@RaphealDavis3) September 5, 2023
Amazing https://t.co/ph1d164En6

— Kahlief Adams (@KahliefAdams) September 5, 2023
Iconic
The name tag needs to go in the espn museum ? https://t.co/2fMrZ7QfZx

— ????? ????????? (@kay_hennessey) September 5, 2023
— Ollie (@Ollie_Charnock) September 5, 2023