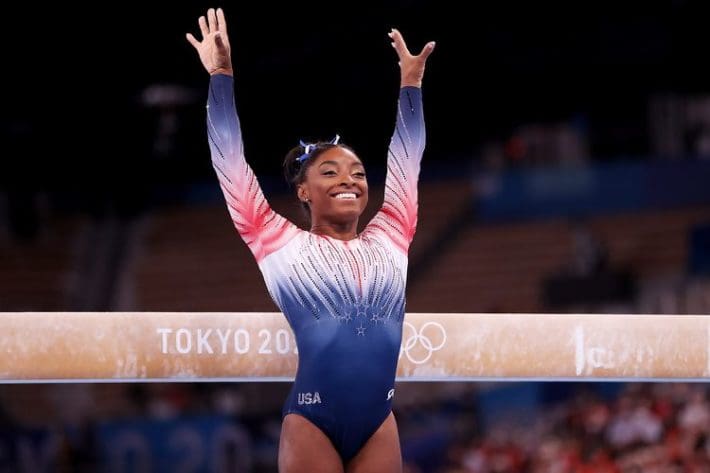 Simone Biles is getting back in action this summer.
via: NPR
A year out from the 2024 Summer Olympics in Paris, two of the biggest names in gymnastics are getting back into competition.
Simone Biles and Sunisa Lee will headline the U.S. Classic, the last qualifying event before the national championships. The meet will take place August 5 in the Chicago suburb of Hoffman Estates.
Biles, the most decorated U.S. women's gymnast ever, hasn't competed since the Tokyo Olympics two summers ago, when she pulled out of competition during the women's team finals, citing mental health challenges. She also withdrew from the individual all-around competition, and said she was experiencing what gymnasts call "the twisties" – a loss of spatial awareness in the air.
The U.S. ended up winning a silver medal in team competition, and Biles' teammate "Suni" Lee won the individual all-around gold.
Having won the all-around gold in Rio in 2016, Biles was probably the most promoted U.S. athlete going into Tokyo, appearing constantly in ads in the weeks and months beforehand. The 2020 Olympics had been postponed for a year due to the pandemic, and the extended run-up took a toll on Biles. "I don't really know how I'm feeling right now. I just feel I have to go home and work on myself and be OK with what's happened," she said after going on to win bronze on the beam.
Her withdrawal from the competition spurred a global conversation about mental health and the pressure put on athletes. Biles said she "felt the weight of the world" on her shoulders coming into the games.
Since then, Biles has kept busy outside the gym. Last year she was presented with the Presidential Medal of Freedom, and in April announced she had married her boyfriend, NFL safety Jonathan Owens.
As recently as January, Biles said it was "up in the air" whether she'd return to competition.