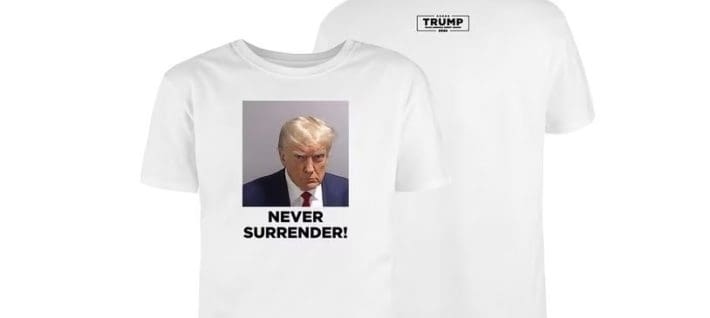 The former president is now selling merchandise featuring his already viral mugshot, with many on social media saying they'll buy it.
via: Radar Online
On Thursday night, Trump's team uploaded a series of products that featured the mug. The Trump store now sells shirts with the mug for $34, coffee mugs for $25, and a beverage cooler (set of 2) for $15.
At the same time, Trump fired off a message to his supporters begging for money. On a personal note, he told his base, "Today, at the notoriously violent jail in Fulton County, Georgia, I was ARRESTED despite having committed NO CRIME.
He continued, "The American people know what's going on. What has taken place is a travesty of justice and ELECTION INTERFERENCE. The Left wants to intimidate YOU out of voting for a political outsider who puts the American people FIRST. But today, I walked into the lion's den with one simple message on behalf of our entire movement: I WILL NEVER SURRENDER OUR MISSION TO SAVE AMERICA."
Trump added, "If you are doing poorly due to the sinister people in control of our country right now, don't even think about donating! But if you can, please make a contribution to evict Crooked Joe Biden from the White House and SAVE AMERICA during this dark chapter in our nation's history."
Trump's pal Alan Dershowitz predicted before the ex-president started selling his items," [Trump's] mug shot will be put on a T-shirt, and it'll be the best-selling t-shirt in the history of t-shirts. And he will use it as a campaign poster. So he's going to try to take advantage of every moment of what's going on there."
After sending out his fundraising plea, Trump took his social media platform Truth Social to repost fan messages. He shared on a supporter's note who wrote, Donald Trump "is my HERO because he faces so much on a daily basis without even considering giving up. He fights for us and gives it his all because he wants to Save America. He is up against so much and we Patriots are standing UNITED with him during it all!"
As RadarOnline.com previously reported, Trump was booked into the Fulton County jail on Thursday and was released after posting a $200k bond.