Vivica A. Fox took aim at Nick Cannon, branding him a "clout chaser" after he joked about her possibly reuniting with 50 Cent.
via: Vibe
After Hollywood Unlocked posted about Cannon and 50's back and forth, Fox jumped into the Instagram comments to clarify her remarks. The actress didn't hold anything back as she unleashed on Nick, referring to him as a "clout chaser," followed by a slew of disgraceful emojis.
"Yo let me correct myself!" she typed. "Yo Nick, I'd rather be with #50Cent any day than yo community d**k a**! Now go somewhere and pay yo child support! #CloutChaser."
Fans caught wind of her comments and backed her up, with some cheering her on while others believe she shouldn't have responded. "DAMN Ms V, did you have to BURN his A** like that????," one IG user responded. "Good response, but a better one would have been not to address it so he didn't get any additional hits… then he would continue to go into desperation mode ??," another account said.
The war of words began when Nick offered a joke at the Power creator's expense on his Daily Cannon Show podcast. Nick Cannon quipped that 50 Cent gained weight as the show's cast discussed Fox, who revealed she would date Fif again if given a chance.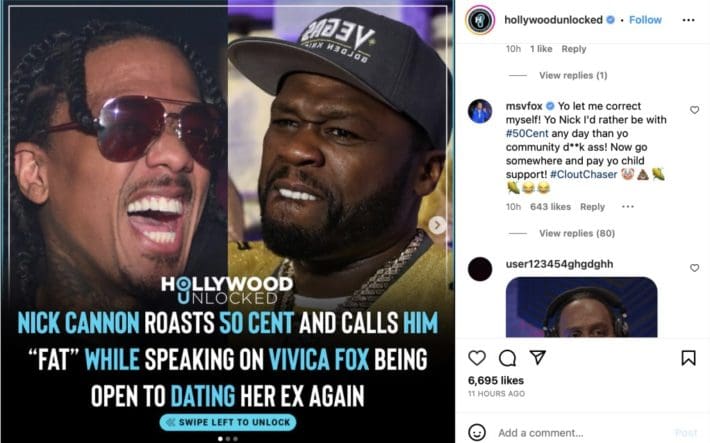 Cannon then added that the actress was thinking of Curtis Jackson from "15 years ago." "You can, like, fantasize about Fif from 15 years ago. That's a different Fif than this fat ni**a that's walking around now… I guarantee you, 50 Cent will come on this show."
After his co-hosts stated they would still date the legendary rapper, the opinionated figure doubled-down on his claims that Fif put on some pounds.
He continued, "And Imma play this clip about both of y'all saying y'all wanna f**k him. He is fat! He look like he got a pack of hot dogs in the back of his neck. You lookin' at them pictures from Get Rich or Die Tryin', now it's get thick or die fryin'!"
50 fired back at Nick after he called him "fat" on Monday (June 12), posting his response on Instagram with a message that read, "It's never luck. It's always God."
He captioned the post with an explicit message warning people against using him for their "campaign." "If your marketing campaign is say something about 50. You're not going to make it, have a nice day," he typed, before plugging his upcoming tour.