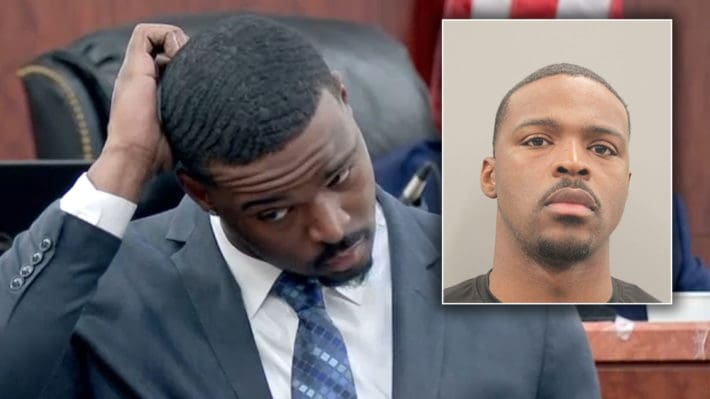 Megan Thee Stallion ended her brief hiatus by performing in her hometown of Houston for the March Madness Music Festival on Friday (March 31). Her fans were so happy for her return that one man even allegedly posed as a police officer for a chance to see her hit the stage.
via: ABC 13
Trayvone Lil Darus Stevenson, 28, was held in the Harris County Jail over the weekend after being charged with impersonating a public servant.
Court documents read that Stevenson allegedly wore a "Police K-9" vest and claimed to be working security as a police officer, with the intention of seeing Megan Thee Stallion's sold-out performance at Discovery Green.
Attorneys said Stevenson is actually a barber in Houston and has no qualifications as any type of officer.
Although he was wearing a "Police K-9" vest, he reportedly did not have a dog with him, according to attorneys.
On Monday, the judge granted Stevenson, who has no previous record, a $20,000 bond. Court records show Stevenson bonded out after his hearing.
"Megan Thee Stallion is a fantastic draw, big draw, especially here in Houston, but this is still a felony case. You cannot go and impersonate an officer to get into a concert venue," prosecutor Mathew Jackson told Eyewitness News at Monday's hearing.
Houston Barber arrested for allegedly posing as a police officer to see Megan Thee Stallion at Final Four fest posts $20K bond ???

— WhatsOnRap (@whatsonrap) April 4, 2023
See social media responses below.
Houston Barber accused of posing as officer to see Megan Thee Stallion at Final Four fest posts $20K bond pic.twitter.com/6HINWsAL0s

— Streets Approved TV (@StreetsAppdTV) April 4, 2023
Free my boy mane ?

— Playa P (@PAY_PlayaP) April 3, 2023
He must not have know what "k-9" meant lmfaooo.

— Bishop T.B Cakes ?? (@IgnantToya) April 3, 2023
Should've tossed the vest once he was in lol

— rachael (@rachaelambb) April 4, 2023
Imagine your barber getting arrested for impersonating a police officer to get into a Megan thee stallion concert ???

— Bree Jay (@Breeannajanaee) April 4, 2023
Barber In Houston Reportedly Impersonates Being A Police Officer To See Megan Thee Stallion At Final Four Fest??? pic.twitter.com/SJipJp2tG4

— Raphousetv (RHTV) (@raphousetv2) April 4, 2023