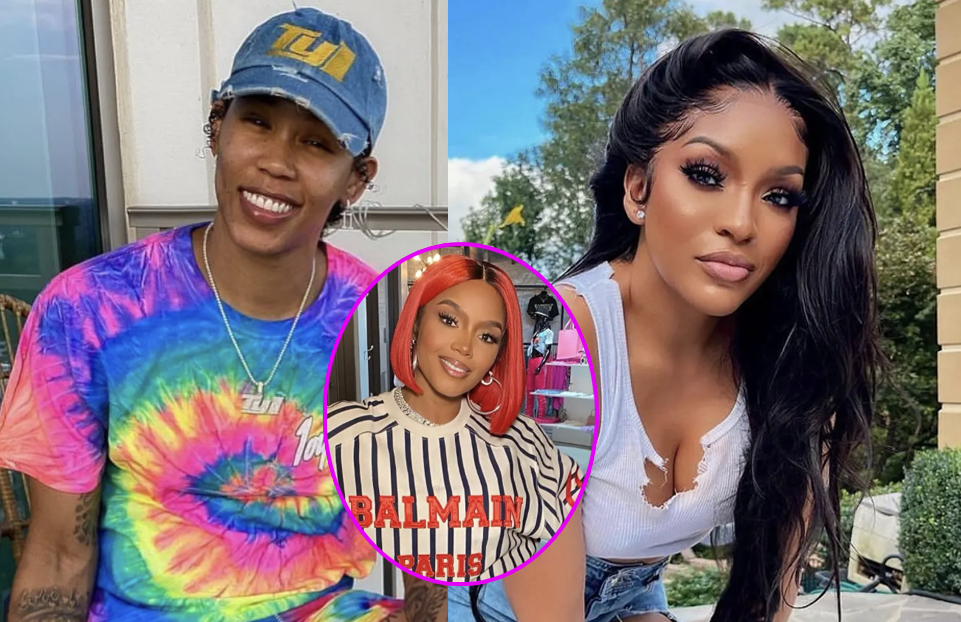 Rasheeda Frost things there's a little something Drew Sidora and Ty Young as romance rumors between the two play out on "The Real Housewives of Atlanta."
via Page Six:
"Obviously, it's some vibing going on, let's just say," the "Boss Chick" rapper says on Page Six's "Virtual Reali-Tea" podcast while promoting her Philo series, "Boss Moves with Rasheeda."
While Frost, 47, has made an attempt to "mind [her] damn business," she surmises that "things be happening" amid ongoing speculation about the Bravolebrity and the former WNBA player. 
"Now listen, it's a lot, OK?" she adds. "It is what it is."
No matter the status of Sidora and Young's relationship, Frost just wants the "Already Know" singer to be content after filing for divorce from her now-estranged husband, Ralph Pittman, in February.
"All I say to people is, 'Listen, life is short.' We could wake up tomorrow and it could be something going on out of all of our control and you want to be happy at the end of the day," she tells us. "And I think what everybody's goal should be is to find that happy space."
Sidora, 38, has been accused of cheating on Pittman, 40, with Young, 36, during Season 15 of "RHOA," which airs its finale Sunday.
"She was cheating with a well-known basketball player," Shereé Whitfield previously alleged in a confessional. "That's what the streets are saying."
When a producer asked Sidora about her rumored involvement with Young, she remained coy. "I don't know what I can say and not say," she responded.
Speculation about Sidora and Young first came up in March when Frost's "Love & Hip Hop: Atlanta" castmate Mimi Faust — who was previously engaged to the athlete — suggested they were having an affair.
Faust, 53, posted a photo of Sidora and Young to her Instagram Story with Ice Spice's song "Munch (Feelin' You)" — which includes lyrics about oral sex performed by two women.
"What's done in the dark will come to the light," Faust later said in an interview with online personality Anthony Lofties.
In a preview released Thursday for the two-part "RHOA" reunion, host Andy Cohen shared alleged messages between Sidora and Young that contradict the former's vehement denial that she was ever unfaithful.
"These are private messages between Ty and Drew," Cohen, 55, said before handouts were passed to Kenya Moore and Kandi Burruss for review. "They're very incriminating."
Cohen also asked Sidora if she visited Young in Texas, to which the "CrazySexyCool" actress replied, "I saw her. I went to her game."
Sidora's noted frenemy Marlo Hampton expressed shock over the purported dalliance with Young as "RHOA" cameras rolled.
"I can't get over she's dating a woman, the way she is, 'I'd never kiss a girl!'" the Le'Archive founder said of Sidora.
In a preview for the finale, Sidora is seen embracing Young as she states in a voiceover, "Don't tell me I kissed this girl. I didn't kiss this girl."
Sidora did, however, get intimate with another woman while filming a movie produced by Burruss' husband, Todd Tucker.
"When we get to those sex scenes, I'm a little nervous," Sidora said before shooting an erotic scene with a female co-star.
It was later revealed that the steamy interaction unnerved Pittman. "Did you kiss her?" he pressed, prompting Sidora to respond, "This is work."
Sidora and Pittman both filed for divorce — 61 minutes apart — on Feb. 27 after nine years of marriage. In court documents, Sidora accused her partner of cheating, "blatant disrespect and mental abuse."
Sidora — who shares son Machai, 8, and daughter Aniya, 5, with Pittman — told People months later that her "boiling point" occurred when the businessman's alleged "behavior and inappropriateness" continued when they joined the Bravo series in 2020.
In June, Pittman issued a public apology to Sidora, owning his part in "the deterioration of [their] relationship."
Frost says on "Virtual Reali-Tea" that Sidora seemed to be in a good place following her split from Pittman.
"She's been through a lot. I haven't talked to her in a while. The last time I did speak to her briefly on text, she was fine. Drew is keeping it moving," the MTV personality explains. 
"She's just got to stay focused, she's just got to keep moving. I'm looking forward to seeing her in the future [with] what she's doing."
Frost is also looking forward to fans watching Season 2 of "Boss Moves with Rasheeda," for which she interviewed "RHOA" icons Hampton, 47, and Cynthia Bailey, as well as Jermaine Dupri, Nelly and Reginae Carter, among more notable names. 
"You learn new ways to boss up all the time when you're talking to other people, and how to make them boss moves because everybody's doing things differently, sometimes similar," she says of her conversations. 
"But honestly, it's all an inspiration. We're trying to inform and give people gems, but we're taking them in on a lot of episodes ourselves — and that's what we do love. It's full circle boss moves." 
New episodes of "Boss Moves with Rasheeda" drop Tuesdays on Philo.
We know what we know, but we'll wait to hear what Drew has to say before we add our two (or three) cents.