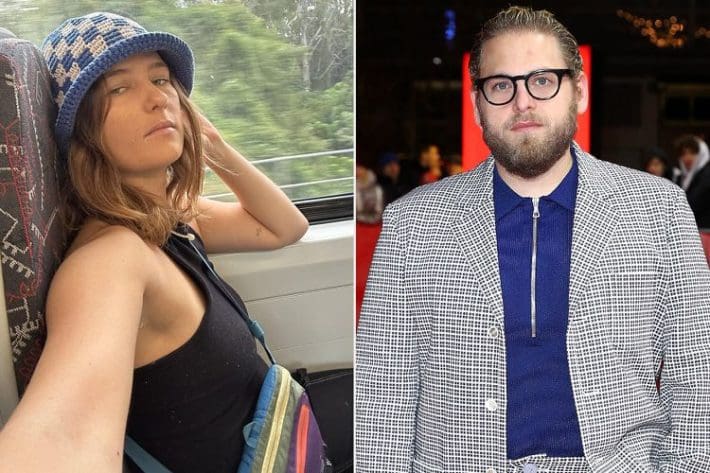 Jonah Hill's ex Sarah Brady is speaking out about their relationship and alleging that the actor was "emotionally abusive" during their time together.
via: Complex
Although Brady initially did not say that she was explicitly referring to Hill, she did share screenshots of an alleged conversation the two had, among multiple other messages.
Brady, who was linked to Hill in 2021 prior to their split in 2022, remained relatively lowkey about their relationship on social media, save for the occasional picture of the two of them. She remained silent following their breakup, and Hill was eventually linked to Olivia Millar. Since then, the new couple welcomed a child in June and sparked engagement rumors after The Daily Mail posted paparazzi photos that appeared to show a ring on her finger.
In February of 2022, Hill refuted rumors that he and Brady were engaged with a post he shared to IG.
"The rumors are not true. I am engaged. But not to my girlfriend," the actor wrote at the time. "I am engaged to your mom. I know this is shocking but please respect our privacy at this time." He added: "Media stop writing fake stuff, it's corny."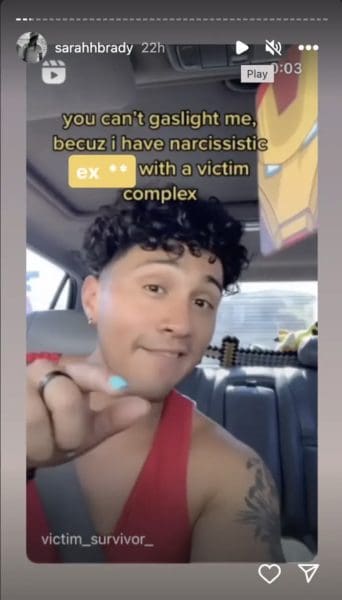 A little over a year after her split with the actor, Brady took to social media to seemingly talk about her experience dating Hill, starting with a black-and-white photo posted to Instagram with the caption, "reviving a pic I took down by request of a misogynist narcissist."
Brady also liked a comment left by a user which said, "I just want to say… that the type of man Jonah is, some of us think we can 'save' them in the sense that we can show them how worthy of love they are and outdo all of the trauma and harm in their life that caused them to be so insecure," appearing to confirm the "misogynist narcissist" in question is allegedly her actor ex.
Over the course of several Instagram posts, Brady shared videos of people discussing their interactions with narcissists and mentioned the "residual trauma" she currently deals with. She also shared screenshots of conversations she had with people responding to her experiences. "I've kept so much to myself about my last relationship," she said in one conversation. "Because he made me feel like I had to hide the intimate details of our relationship, sometimes he would get upset at me, venting to Family."
In another screenshot, Brady said she used Google's search option to look up narcissism signs because she thought she was one. "Like it's common for the partner of a narcissistic person to believe they're the narcissist," she wrote.
According to Choosing Therapy, "Narcissistic abuse occurs when a narcissist progressively manipulates and mistreats people to gain control over them, creating a toxic environment full of emotional, psychological, financial, sexual, or physical harm."
In the messages Complex viewed Brady does not accuse Hill of inflicting physical harm.
It adds, "Narcissists exploit those around them through gaslighting, sabotaging, love-bombing, lying, and twisting situations to suit their needs. As a result, victims can suffer long-term effects from their abuse."
Brady dropped other hints that suggested she was referring to Hill, including a screenshot of her telling someone, "I thought, because my ex is a celebrity, [dating a narcissist] would be a hard situation to relate to."
Additionally, She shared snippets of her conversations with others that appear to point to Hill being the person she's talking about, including an anecdote about emotionally supporting a person up until "he got his new chick pregnant," possibly referring to Hill's child with Millar.
Brady also claimed that Hill said she was using him for his money and clout and disapproved of her posting Instagram photos of her surfing in swimsuits, chalking it up to a "fucked up internal desire for male validation."
While Hill's presence was sparse on Brady's socials, she did change the caption of a smiling snap she took with him at the premiere of his 2021 film, Don't Look Up, to say: "a misogynist hiding in plain sight."
In another screenshot, Brady shared an alleged text message exchange between the two in which Hill says that if she wants to surf "with men," "to model," "to post pictures of yourself in a bathing suit," "to post sexual pictures," and more he's not the right partner for her.