It appeared that something went down in Paris this weekend with Fivio Foreign.
via: Complex
Following reports that Fivio Foreign got into an altercation at a club in Paris, during which he allegedly claimed he was roofied, the Brooklyn rapper has denied that he was drugged.
"Wat kinda lies these people puttin out," Fivio wrote on his Instagram Stories alongside a picture that shows him on a plane. "How can yu [sic] lace me Imma drug baby."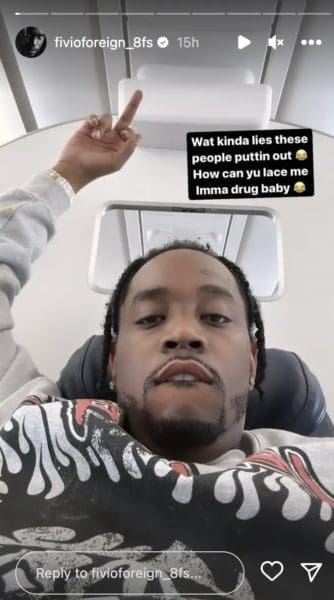 In a follow-up post, he added, "@tmz_tv I really fuccs with y'all & having fake news is not really yah [sic] style so idk who told y'all this stuff but y'all gotta come talk to me please.
He later praised XXL Magazine for reporting on his response to TMZ. "Thank yu [sic] for reaching out to my actual team," he wrote.
TMZ reported on Sunday, June 25 that Fivio Foreign got into an altercation during his performance at Paris nightclub, L'Arc, which began after he was allegedly roofied. While the details on the incident were unspecified, he spoke with police after it went down. No one was arrested or detained.
Earlier this year, a videographer alleged that Fivio Foreign failed to pay them for two videos shot during the Rocking the Daisy festival in South Africa. Instead of disputing the reports, Fivio apologized and promised to make it right. "I deff waznt aware yu never got paid," he wrote on Twitter. "Was alot of things not being handled rite bacc in these days but things more on point now Not even sure if I used these vids but imma make sure yu get paid NP.. I Apologize."
Damnn Yu never got paid ?… I deff waznt aware yu never got paid.. was alot of things not being handled rite bacc in these days but things more on point now Not even sure if I used these vids but imma make sure yu get paid NP.. I Apologize. https://t.co/SWmUi4FTF7

— Fivio Foreign (@FivioForeign) April 12, 2023