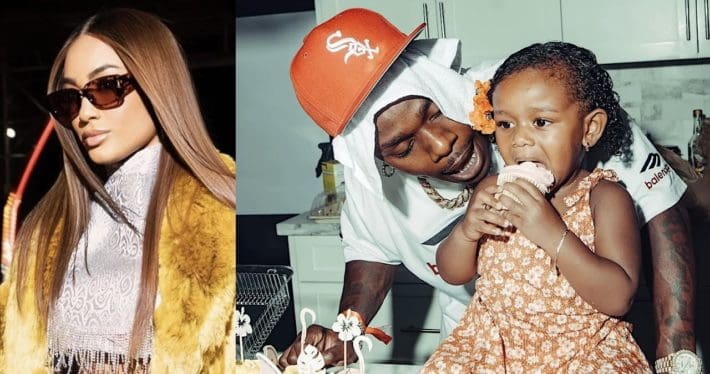 DaniLeigh and DaBaby have definitely been through a lot together since they first entered each other's lives.
via: AceShowbiz
The two are putting aside their differences for the sake of their child. The former couple, who shares a daughter together, has recently reunited to celebrate Velour's second birthday.
In a video shared on social media, the R&B songstress and the hip-hop artist put on a united front at the birthday party for their little girl. At what seemed to be the Hawaiian-themed festivity, the rapper put on a lei around his daughter's neck.
The birthday girl, who looked adorable in a pink top and short skirt, was then walking to a poster that had her picture on it. Her mother was walking alongside her, rocking a cream-colored corset top and a long white skirt.
DaBaby also gave a look inside the party via pictures posted on his Instagram account. In the images, Velour was seen holding a ball, playing in a water slide and enjoying some sweet treats. The 31-year-old father was also photographed carrying a pink toy car, probably his gift for his daughter, which has Velour's name on it.
The birthday girl clearly stole attention at the party, with all eyes on her during a gathering inside what looks like a living room. The proud day simply captioned the post with, "Ms. Kirk."
DaniLeigh and DaBaby's rift stemmed from a 2021 incident during which the latter demanded his baby mama leave his home while she was feeding their child. He streamed the incident on Instagram Live. Cops were called and charges were filed against DaniLeigh at the time.
A few months ago, DaniLeigh was also arrested for alleged DUI hit-and-run in Miami. During the Memorial Day weekend, on May 30 to be exact, she was taken into police custody around 2 A.M. after allegedly hitting somebody with her car.
She was driving a Mercedes-Benz G550, commonly known as a G-Wagen, down Washington Avenue, speeding and weaving in and out of traffic. Police said Dani, whose real name is Danielle Leigh Curiel, then hit a man on a moped near 11th Street and continued on without stopping or slowing down.
An officer later pulled the "Breakfast Can Wait" songstress over near 16th Street after she initially refused to stop. Both Dani and her passenger were detained by police. It was also noted that her SUV smelled of alcohol and she had "sluggish" motor skills. Officers also found an empty bottle of Don Julio 1942 tequila in the car.
The moped rider survived but suffered a kidney laceration and a spinal fracture and was transported to a Miami hospital. The scooterist's vehicle "sustained major damage and was towed off the scene," according to the police report.
Dani has been laying low since the incident. Her daughter's birthday party marked the first time she resurfaced since the alleged hit-and-run.