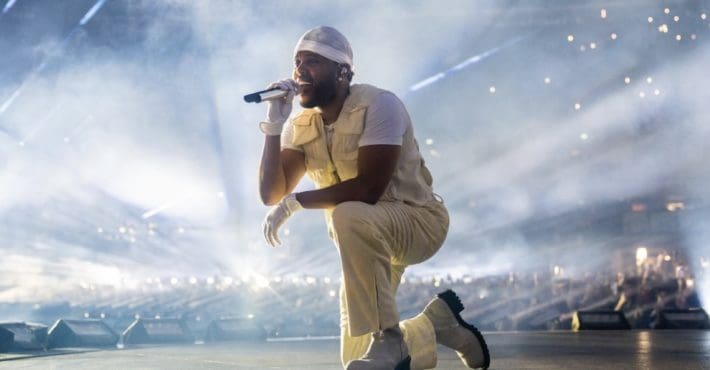 The Weeknd has set a new tour record previously held by Michael Jackson, notoriously known as the "King of Pop," for over 20 years.
via: Variety
Over the past weekend, the Weeknd broke London Stadium's record for highest attendance with his two-night stand at the venue on Friday and Saturday, which drew 160,000 people to his "After Hours Til Dawn Tour."
The tour also holds the record for highest single-night attendance for any show at the stadium with 80,000 fans.
According to promoter Live Nation, the tour has already sold more than 2 million tickets for its European and forthcoming South America and Mexico dates — and 200,000 for both England and France. The sold-out 2022 North American leg of the stadium tour grossed more than $148 million dollars. The global tour has now grossed over $350 million dollars to date.
"It's incredible to see the Weeknd hit this milestone less than halfway through his massive sold-out European run," Omar Al-joulani, Live Nation's president of touring, tells Variety. "This historic moment in London shows the global fanbase he has cultivated over the years."
Darryl Eaton, CAA's co-head of North American touring, adds, "On the heels of an enormous, hugely successful U.S. tour, Abel continues to sell at an astounding level across Europe. Abel entertained 160,000 fans across two nights at London Stadium, with another show in London to come at Wembley in August. We couldn't be more proud to work with him and his team on this incredible tour!"
The Grammy Award-winning singer has passed the late Jackson's record for the highest-grossing tour ever by a Black artist. His global experience has already garnished over $350 million in revenue. Jackson held the record since 1987 when he went on his "Bad Tour." According to Hot New Hip Hop, the musical icon grossed $311 million after adjusting for inflation.