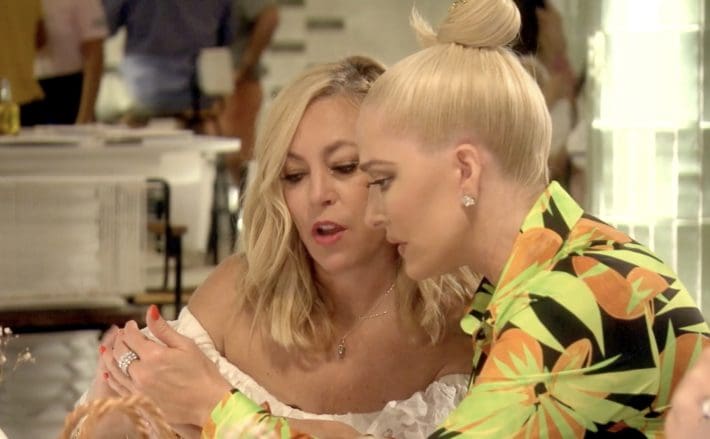 Sutton Stacke had some thoughts about her 'RHOBH' co-star Erika Jayne new Vegas gig.
via: Page Six
The 51-year-old shaded her "Real Housewives of Beverly Hills" co-star's latest musical endeavor during Page Six's "Virtual Reali-Tea" live taping at New York City's Chelsea Table & Stage on Thursday.
"I'm very busy this fall," she said sarcastically. "I'm busy!"
While fans won't likely be seeing Stracke in the stands anytime soon, the reality TV star joked that she would buy everyone in the audience tickets after being told they were going for just $1.
"I thought they were $7!" she exclaimed. "Would everyone like to go to the Erika Jayne concert? Because I think I can swing it."
Stracke managed to take a couple more shots at her co-star when asked about Jayne, 52, calling her the "messiest" "RHOBH" member this season.
"That's because she had a lobotomy and she wasn't talking," Stracke replied. "Somebody had to talk."
The comments come just a few days after Jayne made headlines for selling tickets for less than a cup of coffee — despite her residency starting just a few weeks ago.
According to the resale website Stub Hub, fans can score a spot near the stage for as low as $7 in December.
Meanwhile, there are several tickets listed between $14 and $22 for an upcoming show on Sept. 22, per Vivid Seats.
Not only have re-sale sites seemingly knocked down ticket prices, but Jayne also took to her Instagram Story Tuesday to announce that she was doing a special giveaway.
However, original retailers like Ticketmaster are still making a pretty penny off of the show, with the least expensive seats selling for $69.
Yet this isn't the first time that Stracke has shaded her "RHOBH" co-star in recent weeks.
Last month, Stracke called out Jayne for insinuating that her drastic weight loss was due to menopause rather than the celeb-loved weight loss drug Ozempic.
"I've been through the menopause, but I still don't look like that. But OK," Stracke told Us Weekly while visibly rolling her eyes.
The diss came in response to Jayne telling "Watch What Happens Live" viewers that she "came down" in weight "hormonally," not "Ozempic-ally."
"I was going through menopause," she tried to explain. "I went to the doctor and I said get it off me."
Since then, Jayne has been putting her slimed-down frame on full display during her show in Sin City, wearing everything from hip-hugging latex looks to black thong bodysuits.