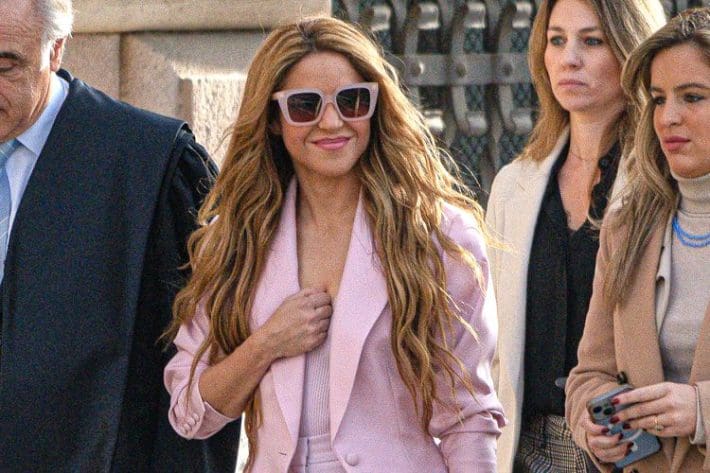 Shakira decided not to fight the fight in a courtroom in Spain.
via: People
In the first day of her tax fraud trial in Barcelona on Monday, the "Hips Don't Lie" singer told presiding magistrate José Manuel del Amo that she accepted the agreement, according to multiple outlets including the BBC, The New York Times and the Associated Press.
With her deal comes a three-year suspended sentence and a $7.5 million fine. The Colombian songstress had been accused by prosecutors of six counts of tax fraud for failing to pay 14.5 million euro ($15.8 million) in income taxes between 2012 and 2014, charges she continues to deny. She was facing the prospect of up to eight years in jail and a fine of up to $26 million if found guilty.
In a lengthy statement obtained by PEOPLE, the 46-year-old said that she had settled the case for the sake of her children.
"While I was determined to defend my innocence in a trial that my lawyers were confident would have ruled in my favor, I have made the decision to finally resolve this matter with the best interest of my kids at heart who do not want to see their mom sacrifice her personal well-being in this fight," she said.
"I need to move past the stress and emotional toll of the last several years and focus on the things I love — my kids and all the opportunities to come in my career, including my upcoming world tour and my new album, both of which I am extremely excited about," she added. "I admire tremendously those who have fought these injustices to the end, but for me, today, winning is getting my time back for my kids and my career."
Still, Shakira maintained her innocence in her statement. "Throughout my career, I have always strived to do what's right and set a positive example for others," she said.
The star also criticized tax authorities in Spain, who she claimed "pursued a case against me as they have against many professional athletes and other high-profile individuals, draining those people's energy, time, and tranquility for years at a time."
Central to the case was Shakira's residency between 2012 and 2014, per the New York Times. Prosecutors claim Spain was her main residence but she was listing it as elsewhere to avoid paying taxes. Under Spanish law, people who spend more than six months in the country are considered residents for tax purposes.