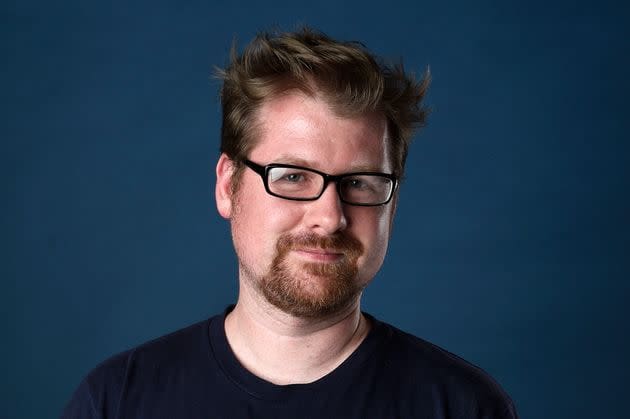 'Rick and Morty' creator Justin Roiland is facing new sexual assault charges just months after being cleared of domestic violence charges.
The new allegations come via an NBC News report citing interviews with 11 women and nonbinary people who claim to have messaged with Justin over text, email, and social media between 2013 and 2022.
via Variety:
Nine of the interviewees allege that Roiland shifted their conversations to be of a sexual nature, with three saying they were 16 years old when they began their correspondences. Along with giving interviews, the 11 sources in the report provided NBC News with photos, videos, social media posts, emails and receipts that point towards their involvements with Roiland.
These new allegations are separate from the charges against Roiland that were dropped earlier this year, which pertained to allegations of battery and false imprisonment made by an unnamed Jane Doe who was dating Roiland in January 2020 at the time of the claimed incident.
When asked for comment on the allegations made in Wednesday's report, Roiland's lawyer Andrew Brettler directed Variety towards a statement Roiland posted on X, then known as Twitter, in March after the domestic violence charges were dropped. Brettler declined to provide a further response to the newer allegations, though NBC News reported that he wrote the outlet a letter calling the allegations "false and defamatory."
Among the allegations was an incident of forced oral sex with a 20-year-old woman. The woman alleged that, after exchanging messages on Tinder in March 2019, Roiland bought her two alcoholic beverages despite that she had already told him she was underage, before asking her to perform oral sex on him. When she said no, the woman says, Roiland pushed her head towards his crotch and she stopped resisting. She says that she related the events to a friend over the phone immediately afterwards, which NBC News verified with the friend.
Text messages from four months later appear to show the woman confronting Roiland, saying that the sexual encounter was "not handled by [Roiland] in the best way" and that "it was not black and white but verbal consent is [very] important." Roiland's reponse reads, "Shit yeah, I didn't?? I'm really sorry! Fuck. That's not cool at all — jeeeesus. That is not me whatsoever… I literally didn't get consent??"
Another woman described correspondence with Roiland that began in May 2016, when she was 19 and Roiland was 36. Roiland followed her on X, then known as Twitter, and began messaging her about her artwork. The two continued to converse over time, eventually exchanging phone numbers, and in March 2017, Roiland offered to pay for her to fly to Los Angeles to visit him. She agreed, though her father required that Roiland speak with him over FaceTime beforehand. After the call, Roiland texted the woman that he understood her parents' concern and said, "I will make absolute 100% sure nothing bad happens to you."
Before that call, their text messages had already shifted to a sexual nature, with Roiland asking the woman about her sexual orientation, as messages with other interviewees show he often inquired about. Though the woman reciprocated Roiland's flirting, she indicated that she didn't think she was interested in women.
Upon her arrival in Los Angeles, the woman says that a party at Roiland's house ended with her alone in a hot tub with Roiland and a female friend of his. She says that she remembers drinking liquor and has forgotten parts of the night, but remembers performing sexual acts with Roiland's friend in front of Roiland upon his request, and that Roiland had sex with her in front of his friend. Later that night, Roiland asked the woman via text message if she was okay, and she expressed her discomfort with group sex and said that she felt "terrible." Roiland said they didn't have to do that again and that he wanted to sleep with her that night. Having fallen asleep, the woman didn't respond, and Roiland then sent several erroneous messages including one iPhone sticker 14 times, depicting a man with several penises in his mouth. The next day, the woman says she consented to having sex with Roiland but felt pressured to allow him to film them, and that she worries he still has the video.
Brettler told NBC News that the woman had had consexual sex with Roiland in the hours leading up to the hot tub incident, which the woman told NBC News she doesn't remember. Brettler also said that Roiland was not responsible for her sexual encounter with the other woman in the hot tub.
The report also notes messages where Roiland referred to two different people as "jailbait" due to their being 16 years old, and a message where a 16-year-old girl who expressed interest in livestreaming as a video gamer, to which Roiland responded, "Then once you turn 18 you just start cam whoring." Another woman said that Roiland told her she would like his girlfriend if she was "into girls." One person said she attended a party with Roiland where he offered them alcohol despite that they were underage and reluctant to drink, and that they left after Roiland asked them to kiss a woman he had invited.
Seven of the interviewees had posted some of their messages with Roiland on social media before, while four had not. NBC News said that "most" of the interviewees shared their encounters with Roiland after realizing that other people had had similar experiences.
If you watch 'Rick and Morty,' then you already know there's a good possibility these allegations are true. In fact, it's damn near certain that they are.