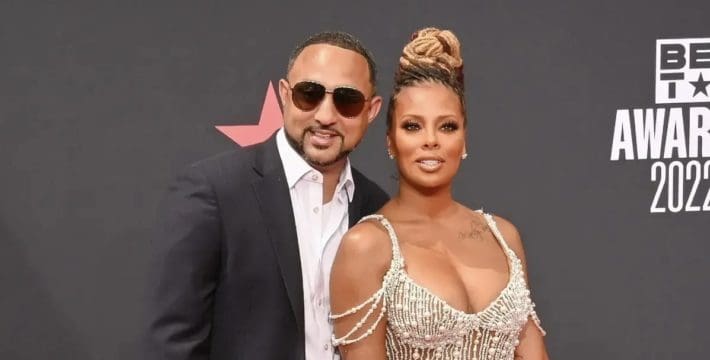 "Real Housewives of Atlanta" alum Eva Marcille's estranged husband, Michael Sterling, is being sued for allegedly causing a car accident while driving under the influence.
via: Radar Online
According to court documents obtained by RadarOnline.com, Eva's lawyer husband is being sued by Kody Clark and Lauren Hammett over a 2022 accident.
In court documents, the plaintiffs accused Michael of being negligent while driving on February 4, 2022.
Clark said he was driving a 2014 Toyota Camry in a "safe, careful, prudent manner" in Sandy Springs, Georgia and Hammett was a passenger.
The suit accuses Sterling of operating a 2011 Ford Mustang GT in an adjacent lane on the highway when he "suddenly and without warning, negligently, carelessly, and unlawfully operated said vehicle by driving under the influence, driving recklessly, and following too closely, slamming directly into the rear of Plaintiff's vehicle, causing it to spin out of control until it collided with the concrete median on the right side of the road."
Clark and Hammett said they were "hurt and suffered multiple injuries."
The lawsuit said Sterling's negligence caused them to incur medical expenses. In addition, they claim to have suffered emotional distress, significant injuries, mental and physical pain and suffering, lost wages, and a loss of enjoyment of life due to the "violence of the collision and injuries to the Plaintiffs' bodies plus an inability to live a normal life."
The plaintiffs said they racked up medical bills in excess of $2k but the final amount has yet to be determined. Sterling has yet to respond to the lawsuit.
RadarOnline.com has obtained a letter Michael's lawyer wrote to prosecutors in April 2022 which included a medical report from the night of the incident.
The letter read, "As the officer indicates in his report, he brought Mr. Sterling immediately to the emergency room following the accident, and an independent medical examination was performed by medical professionals in the presence of the officer. The medical professionals disagreed with the officer and indicated in their report that "despite injection of his eyes, he otherwise does not have any slurred speech or inebriation at this time."
Michael's lawyer added, "There was no odor or smell of alcohol in the medical report. Indeed, both nurses were subpoenaed for the administrative hearing in this case and were prepared to testify that if they smelled the odor of alcohol, it would have been included in their report. They would have testified that the fact that they did not include it in the medical report means they did not detect the smell of alcohol. They never testified at the administrative hearing because the officer agreed to dismiss the case because he failed to properly advise Mr. Sterling of the implied consent rights."
Michael's lawyer said his client answered all of the nurses questions and the medical report indicated he had "normal mentation and speech."
"Despite the fact that Mr. Sterling had worked a long day, he was fully oriented, awake, alert and cooperative. This independent medical report conducted at the officer's request belies the claim that Mr. Sterling was under the influence in any manner. The accident occurred on a rainy night on a highway with ongoing construction," the letter read.
The lawyer said the officer noted Michael's eyes were "glossy and red" but never "inquired about any potential issues or causes for this condition."
The lawyer said Michael had gone to the doctor just a few months prior to the accident where Michael complained of "redness, swelling and watery eyes ("glossy"). Mr. Sterling was diagnosed with conjunctival edema and provided a plan, including applying cold compress and a steroid prescription to treat this condition. He uses that prescription to this date."
Michael's letter said he had been an attorney since he was 25 and has a "pristine record." His lawyer said "he was not driving under the influence of alcohol that night. Mr. Sterling is a former Assistant United States Attorney and a respected member of the Bar. The traffic tickets he received in Sandy Springs are among just three or four that he has received in his entire life."
The case is ongoing.
As RadarOnline.com first reported, Michael is battling his estranged wife Eva in divorce court. Eva filed for divorce demanding primary custody of their kids.
Marcille listed the date of marriage as October 7, 2018, and said they are "currently living in a bona fide state of separation."
The model said the marriage was "irretrievably broken" and there was no chance of a reconciliation. The couple shares three minor children; Michael Sterling Jr, Maverick Sterling, and Marley Sterling.
Marley is Marcille's child with her ex-Kevin McCall, but Sterling raised her as his own. The RHOA star demanded child support.
Sterling responded to the divorce by denying Marcille is entitled to a divorce following him saying he planned to win her back.