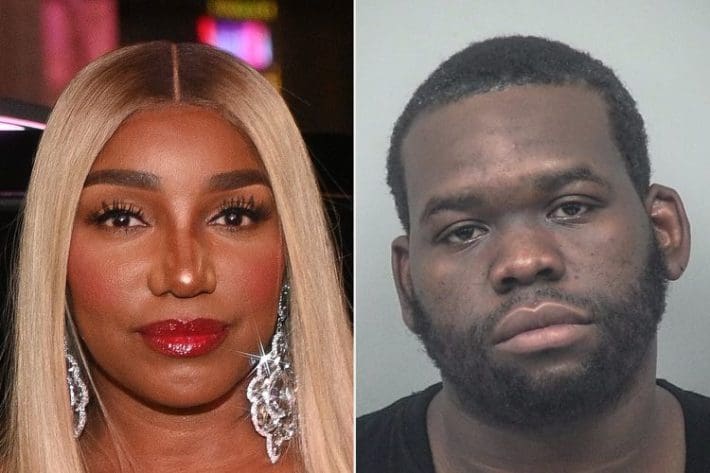 Bryson Rashard Bryant, the eldest son of former Real Housewives of Atlanta star NeNe Leakes, is behind bars after being arrested on July 3rd.
via: Radar Online
Bryant, won't be a free man until next year — even if his wealthy reality star mom wanted to bail him out. RadarOnline.com can reveal that Bryant, 33, won't be eligible for release from Gwinnett County Jail until January 3, 2024.
A spokesperson in the sheriff's release office confirmed to RadarOnline.com that Leakes' son is stuck behind bars for at least 152 more days.
As RadarOnline.com exclusively revealed, Leakes' oldest son was arrested on July 3 and charged with felony possession of fentanyl and a misdemeanor for loitering/prowling.
At the time of his arrest, Bryant claimed to be his younger brother, Brentt Leakes, whom The Real Housewives of Atlanta alum shared with her late husband, Gregg. His real identity was later confirmed, and he was hit with an additional charge of "giving a false name, address, or birthdate to a law enforcement officer."
When they ran Bryant's name in the system, officers saw that Leakes' son was "wanted for probation violation" in a separate case.
The ex-RHOA star recently spoke out about Bryant's arrest, revealing she's "numb" to the situation because he's "been struggling" with drugs for years.
"He needs rehabilitation," Leakes explained. "He needs a lot of counseling. Like many families out there, I have family members that are struggling with drugs and certain addictions. He has an addiction. He's been struggling with it for years. He's been in rehab for a couple of times and he still has come back out and relapsed."
Bryant's ex, Symone Davis told RadarOnline.com she's "not surprised" that police found drugs in Bryson's vehicle; however, she was "definitely shocked" when she discovered it was fentanyl.
"I didn't know he was going to that depth," she said in an exclusive interview.
Bryant and Davis share a son named Blaze, whom a judge ruled that Bryson was the biological father of in July 2020, legal documents revealed. Despite drama with the family, Davis agreed with Leakes that Bryant needs rehabilitation.
The former Bravolebrity disclosed that her College Hill costar Lamar Odom — who suffered a near-fatal overdose in 2015 — stepped in and offered to get Bryson into treatment. RadarOnline.com obtained exclusive photos of the Gold Bridge Treatment Center in Louisburg, Kansas, where sources told us that Odom offered to bring him after he's done serving his time.