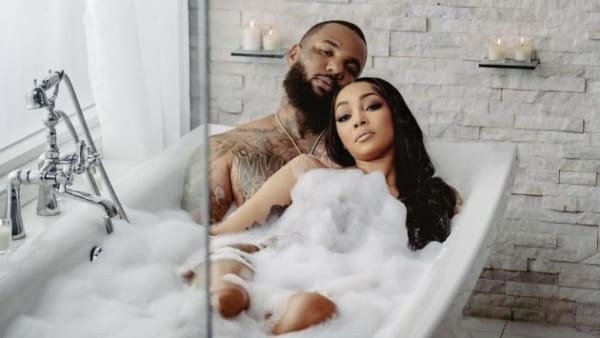 Monica is back with her new single, 'Letters.'
via: Complex
Reason number 100 of why you shouldn't follow your parents on social media: You might see some…interesting things, like your mother in the bathtub with The Game.
Romelo Montez Hill, R&B icon Monica's basketball-loving 15-year-old son, caught an eyeful when he saw her recent Instagram video previewing the sensual video for her latest song, "Letters." Caressing her under a mountain of bubbles is none other than West Coast rap legend The Game.
Naturally, Hill was shocked at the video. "Yo what is this," he commented. Monica sprung into mommy duty, reassuring her son, "SON… It's like a movie!! Momma at work." Addressing the humorous and awkward situation on her Instagram stories, she posted a screenshot of the interaction on her Instagram Story with the caption: "Somebody please tell Lil Daddy take a day off…."
Meanwhile, The Game is enjoying the strong reaction the pair have received ahead of the release of the steamy video. In an Instagram post of his own featuring intimate photos of them from the video shoot, he included the caption, "They said 'Make it make sense'…. I said 'No problem'."
Monica, 42, had previously been the subject of dating rumors when she posted photos of her on a self-described "date" with 26-year-old Kodak Black. She shut the speculators down quickly, tweeting: "Not every relationship is about messing or dating! I hang with their moms because I'm their age! LOL. I'm gonna FOREVER love support & encourage them! They don't play about me."
You can watch the video for Monica's "Letters" below.