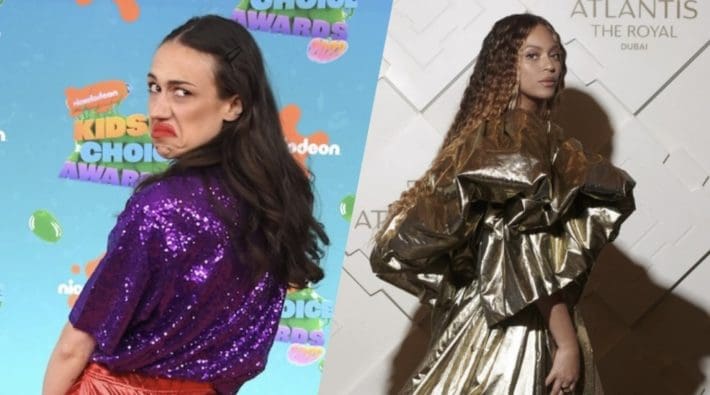 Colleen Ballinger, the YouTube creator best known for her alter ego Miranda Sings,Now, is facing fan backlash sparked by a video of her performing Beyoncé's "Single Ladies" while wearing blackface.
via: Daily News
While some online are arguing the paint on her face was actually green following a performance as Elphaba from "Wicked," the development only adds to recent allegations of grooming behavior, where she's been accused of inappropriate behavior with young fans.
The video now in question, which is still currently up on her YouTube page, shows Ballinger with dark makeup on her face as she performs the song "Single Ladies."
Video of Colleen Ballinger performing "Single Ladies" by Beyoncé in blackface has surfaced. pic.twitter.com/44a8aEDpBd

— NVN | Now Video Network (@NowVideoNetwork) July 5, 2023
While it's unclear exactly when the video was taken, but appears to have been recorded around 2017 or early 2018 based on the timeline of her Miranda Sings YouTube page, per TMZ. Some comments suggest that the video was initially shared exclusively with those who purchased Colleen's book, "My Diarrhe," and became public afterwards.
The emergence of the video also coincides with recent accusations of racism leveled against Ballinger in a different context.
Text messages allegedly attributed to someone involved with her 2016 Netflix show, "Haters Back Off," suggest that she made derogatory remarks about a Black actor during auditions.
According to the texts, she allegedly commented, "WHERE IS HE," referring to the actor's darker complexion in poor lighting.
The controversy adds to the allegations of grooming behavior, where Ballinger reportedly asked underage fans questions like, "Are you a virgin?" and "What's your fav position?" in addition to requesting pictures of them.
In response to these claims, the YouTube star posted a peculiar apology video that featured her singing and playing the ukulele while attempting to explain her actions.
The video was widely criticized by those online for being tone-deaf and failing to address the concerns adequately.