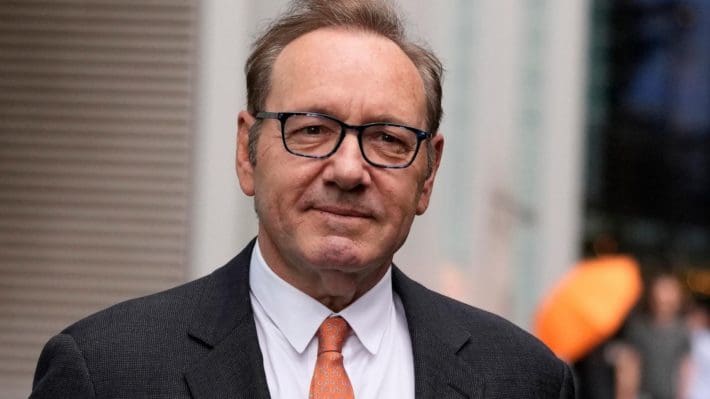 Kevin Spacey has been found not guilty of his sex crimes trial in London.
via: Rolling Stone
Spacey was found not guilty of nine counts of sexual assault in his London trial, CNN reports.
Spacey had previously denied the charges stemming from allegations made by four men, who accused the actor of unwanted advances and touching, and in one instance, alleged oral sex without consent. Spacey was first hit with five sexual assault charges in May 2022, the allegations tied to claims he assaulted three men between 2005 and 2013. Then, in Nov. 2022, the Crown Prosecution Serviced tacked on an additional seven charges related to "a number of sexual assaults against one man between 2001 and 2004."
During the prosecution's opening statement at the actor's sexual assault trial in London last month, the two-time Academy Award winner was described as a "sexual bully" who "abused the power and influence that his reputation and fame afforded him."
Prosecutor Christine Agnew alleged that Spacey "delights in making others feel powerless and uncomfortable" and later said Spacey took "who he wanted, when he wanted."
One of the men said he met Spacey while the actor was employed at London's Old Vic Theater. The man, who was also an actor, said Spacey often made sexual remarks towards him and touched him inappropriately; the accuser ultimately left an acting role after Spacey allegedly grabbed his genitals on the way to a party. Two other men made similar claims, with one saying Spacey grabbed his genitals "with such force that it was painful."
On day three of the trial, the court heard one of the accuser's recorded police interviews in which the man detailed having met Spacey at a pub he worked at hours before the alleged incident. The man said Spacey told him to "be cool" while kissing his neck and grabbing his crotch without the man's consent.
Jurors were shown another police interview from another complainant during the trial's seventh day; the man broke down in tears as he described the alleged assault. According to the Guardian, the man claimed that he met Spacey in 2008 after reaching out for advice about his acting career. He said Spacey invited him up to his flat where they drank beers and smoked weed.
The man said that the actor gave him a hug and rubbed his head in the man's crotch. He said he fell asleep, which wasn't something he would normally do, and alleged that four or five hours he woke up to find Spacey performing oral sex on him. He claimed he told Spacey "no," but that the actor continued. After he pushed the actor off, the man said that Spacey asked him to leave right away and told he to not tell anyone what had happened.
One of the most prominent parts of the trial involved the accusation that Spacey grabbed the crotch of one man while they were driving to Elton John's annual charity gala. The man said Spacey grabbed his genitals so hard, he nearly crashed the car. Spacey refuted the assault itself — "I was not on a suicide mission Ian any of those years," he told the jury — and also tried to discredit the accuser's claim by a timing inconsistency.
The man had said the incident occurred in 2004 or 2005, but Spacey presented schedules and itineraries showing he was shooting a movie at that time. Additionally, John and his husband David Furnish both testified during the trial that Spacey had only attended their gala once, and that was in 2001. (The accuser did acknowledge he may have had the dates wrong, but was adamant the incident had happened, saying he stopped spending time with Spacey afterwards.)
Spacey's testimony was further marked by efforts to cast doubt on the claims of his accusers. One man, for instance, compared the way the actor allegedly grabbed him to a striking cobra. When asked about this, Spacey countered, "You're just making stuff up now. When asked why his accusers would make up such allegations, he replied, "Money, money, and then money." (Two men have brought civil lawsuits against the actor while a third reportedly solicited a settlement.)
During the trial, the prosecution seemed to highlight the similar nature of the crotch-grabbing accusations all four men had made against Spacey. In one contentious exchange, Spacey declared one complainant's claim that the actor grabbed him backstage at a charity event to be, "Absolute bollocks!" The prosecutor retorted, "Yes, because that's exactly where you did grab him, isn't it?
Spacey reportedly seemed surprised by the specifics and asked the judge, "Did he accuse me of grabbing his bollocks?" After being told "yes," Spacey was asked again to respond to the question and said, "I did not."
During closing arguments, Agnew argued that Spacey believed he could grope people without consequence because he had a "trinity of protection": Either the men wouldn't report the incidents, they would go to the police who wouldn't believe them, or not find their crimes worthy of investigation. She also pushed back on Spacey's claim that his accusers were financially motivated.
"Are they all motivated by 'money, money, money' as you were told rather dramatically by the defendant?" Agnew said, quoting Spacey's testimony. "Or have they all just had enough of the secret of the truth that they have been carrying around for many years? They're no longer prepared to be the secret keeper of someone who treated them so badly."
Spacey's attorney, Patrick Gibbs, meanwhile argued that Spacey never acted out of line with anyone, saying, it was "not a crime to like sex, even if you're famous; and it's not a crime to have sex, even if you're famous; and it's not a crime to have casual sex." He added: "It's not my life, it's not your life, perhaps it's a bit of an odd life, but it's a life that makes you an easy target when the internet turns against you and you're tried by social media."
The U.K. trial followed numerous allegations of sexual assault and misconduct in recent years — which Spacey has denied. The actor previously saw charges dropped and dismissed in criminal and civil cases in Massachusetts and California in 2019. In the Massachusetts case, the charges were dropped after the accuser invoked the Fifth Amendment, while the California case was dismissed after the accuser died of natural causes.
In October 2022, Spacey was found not liable for battery in his civil lawsuit trial tied to the sexual misconduct allegations made against him by Anthony Rapp, who accused the actor of sexual assault 1986 when Rapp was 14-year-old.