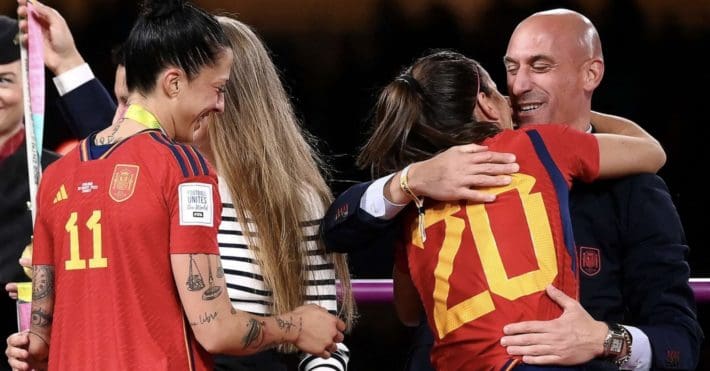 On Saturday (Aug. 26), Luis Rubiales, the Royal Spanish Football Federation president, was suspended for 90 days by FIFA.
via: CNN
Rubiales has been refusing to stand down over the incident, in which he kissed Hermoso on the lips last Sunday after Spain won the tournament for the first time, despite fierce criticism from Hermoso, her teammates and the Spanish government.
Hermoso said the kiss was unwanted and she and the entire World Cup-winning squad have refused to play while Rubiales remains president.
Rubiales said the kiss was consensual and the federation has been sticking by him, threatening legal action against Hermoso and others.
World soccer's governing body FIFA said Rubiales was initially suspended for 90 days and banned Rubiales and the Spanish football federation from contacting Hermoso, who described refusing requests to issue a statement to "alleviate the pressure" on Rubiales.
FIFA said further information would be provided when disciplinary proceedings, launched Thursday, had been concluded.
The provisional suspension comes after the scandal escalated further when Spain's soccer federation threatened to take legal action against Hermoso, accusing the player of lying about being kissed by Rubiales.
On Friday, Hermos had responded to a defiant speech by Rubiales, during which he described the kiss as "mutual," with a statement which said that at no point did she consent to the kiss.
Writing on social media, Hermoso said: "I felt vulnerable and a victim of an impulse-driven, sexist, out of place act without any consent on my part."
The row has overshadowed Spain's historic victory in Sydney, Australia, and dominated headlines throughout the week.
Following Spain's 1-0 win over England in the final, Rubiales was filmed kissing Hermoso on the lips after she had collected her winners' medal, an act which the 33-year-old said later that day she "didn't like" and "didn't expect."
Rubiales, who said on Monday he had "made a mistake," has come under fire ever since, with Spain's Prime Minister, Pedro Sánchez, calling the apology for what he described as an "unacceptable gesture" as "not enough."
But on Friday Rubiales spoke at the federation's Extraordinary General Assembly and emphatically said he would not resign. While addressing the assembly for nearly 30 minutes, he described the kiss as "mutual" and spoke of "unjust" campaigns and "fake feminism," sparking further criticism.
Responding to Rubiales' speech, Hermoso said the RFEF president's explanation of the incident was "categorically" false, adding: "I want to reiterate as I did before that I did not like this incident."
CNN reached out to the RFEF, Hermoso and UEFA for comment but did not immediately receive a response.
? | ?? Spanish World Cup Kiss Controversy | The Question Of Consent

After Spain's women's national team won the Women's World Cup in Australia, something unsual happened.

Spain's Football President, Luis Rubiales, kissed 33-year-old footballer, Jenni Hermoso, on the lips.… pic.twitter.com/K4cZbMKcEZ

— Censored Men (@CensoredMen) August 26, 2023