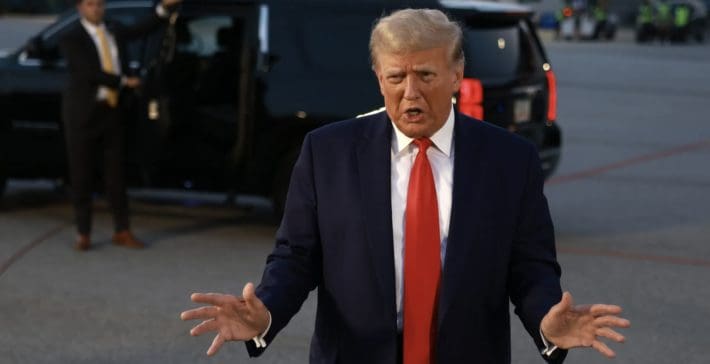 Donald Trump has turned his Georgia mugshot into a record-breaking fundraising haul.
via: HotNewHipHop
Trump is someone who is always making headlines. The former President Of The United States is running again. Overall, he is the favorite to get the Republican nomination. However, he is currently battling four different indictments. This would likely be a disaster for any other candidate. Although, when it comes to Trump, this just makes his base that much more excited. It has been very interesting to watch, and with the Republican primary just months away, political pundits are curious if he can survive the news cycle.
Last week, Trump surrendered in Fulton County as he was indicted on election interference charges. Of course, this subsequently led to his very first mugshot. The mugshot then went viral and it has been all over the internet, with may making humorous edits. As for Trump himself, he knows how to take advantage of the situation. His team has already unleashed a ton of pieces of merchandise that bear the mugshot. This has proven to be a winning strategy, as a lot of money has already been made.
According to NBC News and The Neighborhood Talk, Trump's merchandise has been such a great bet, that it has made him close to $7 million. All of this money is going toward his upcoming campaign. Trump loves to hold rallies, and there is no doubt he will ramp those up as the primaries reach specific states. Currently, his biggest rival is Ron Desantis, who doesn't seem to have the juice right now. There is also Vivek Ramaswamy and Nikki Haley, although they have had their own struggles on the campaign trail.
Donald Trump has proven time and time again that there are very few things that can take him down. Even if he were in prison, he would still run for president and probably still do very well. It is a sad indication of the times we are living in.