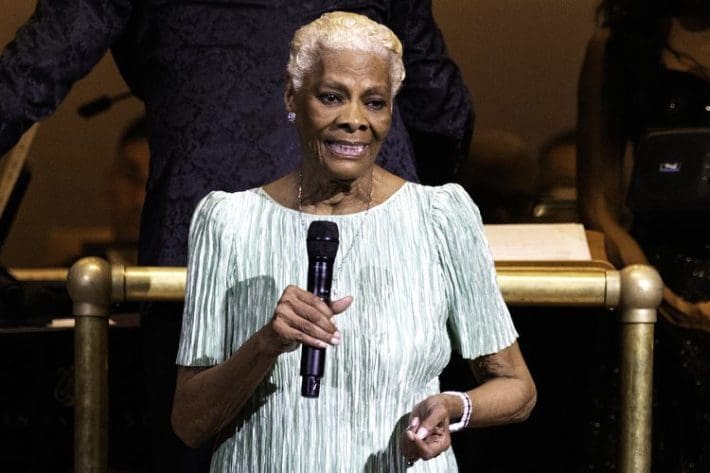 Dionne Warwick has canceled an upcoming concert in the Chicago area later this month.
via: Page Six
"We regret to inform you that the Dionne Warwick performance on June 24, 2023 at Rivers Casino Des Plaines has been cancelled due to a medical incident," read an email obtained by TMZ Thursday from the venue.
"All ticket purchases will receive a full refund, Thank you for your understanding," the Rivers Casino Des Plaines continued. "We look forward to seeing you at another event in the future."
The casino did not disclose what "medical incident" occurred, but the outlet reports that the "That's What Friends Are For" singer began having issues with one of her legs.
However, they reported that Warwick is "already on the mend."
Page Six has reached out to Warwick's rep but did not immediately hear back.
Fans began sending the "Heartbreaker" songstress well wishes on Twitter after the news of her health issue surfaced.
"Prayers up for everyone's Auntie @dionnewarwick We all hope you feel better soon #SayALittlePrayerForYou #DionneWarwick," wrote one fan.
"Hope you're feeling better soon! ?@dionnewarwick?," added another.
"Sending love and healing vibes to @dionnewarwick," tweeted a third.
Warwick also has concerts scheduled for June 22 in Bridgeport, Conn., June 23 in Bensalem, Pa., Aug. 9 in Selbyville, Del., Aug. 11 in Gethsemane, Ky., September 1 in Ojai, Calif., and Sept. 2 in Beverly Hills, Calif.
There's no word on if these other shows will continue as planned.
Earlier this year, Warwick revealed that she and Dolly Parton were working on a gospel son together.
"She sent me another song, the one that we're going to be doing as a duet," the "Walk On By" singer said during a January appearance on the "Tamron Hall Show."
"[It's] a gospel song called 'Peace Like a River'… I am very excited about this. I really am. I've done so many duets over the years, but this one's gonna be very special."
Prayers up for the legend.