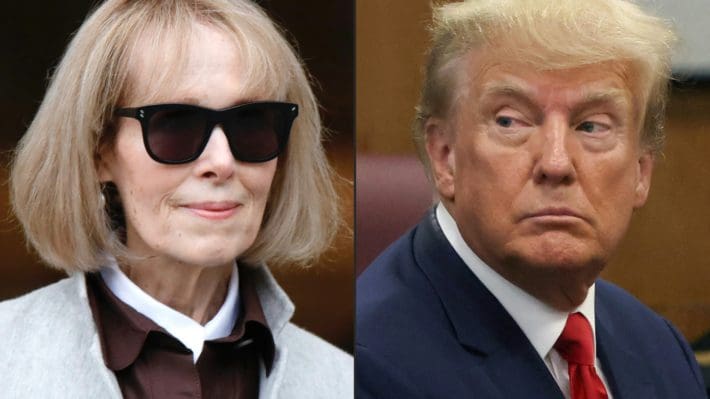 The justice department has reversed its position on defending Donald Trump in a lawsuit brought by the writer E Jean Carroll, paving the way for a possible trial in January.
via: Radar Online
Donald Trump unleashed on the Department of Justice after the agency reversed course and decided the ex-president did not deserve immunity in the civil lawsuit with writer E. Jean Carroll, RadarOnline.com has learned.
Earlier today, it was revealed the DOJ has informed Trump that "the Department has determined that it lacks adequate evidence" to determine Trump was acting as a government employee when he "denied sexually assaulting Ms. Carroll and made the other statements regarding Ms. Carroll that she has challenged in this action."
In 2019, Carroll accused Trump of sexually assaulting her in a Bergdorf Goodman department store in the mid-'90s. The then-president accused the author of fabricating the story in an effort to sell her books. He claimed she wasn't his "type."
Carroll sued Trump for defamation over the claims.
Earlier this year, Carroll won $5 million in damages from Trump in a 2nd case over defamation and sexual assault.
The parties are now back fighting in the original defamation case that has yet to go to trial. The DOJ decided today that Trump is no longer entitled to immunity in that case.
The DOJ, both under Trump and Biden, had originally decided the ex-president was entitled to immunity but has now reversed course. Trump would have ended up being dismissed if the DOJ had provided immunity.
The decision infuriated Trump who unleashed on his social media platform, Truth Social.
He said, "The DOJ will not defend me in the E. Jean Carroll civil case, which is all part of the political Witch Hunt, lawyered up by a political operative who I just beat in another case, financed by a big political funder, and "judged" by a Clinton appointee who truly hates "TRUMP." The statements that I made about Carroll are all true. I didn't Rape her (I won that at trial) and other than for this case, I have NO IDEA WHO SHE IS, WHAT SHE LOOKS LIKE, OR ANYTHING ABOUT HER…."
Trump added, "Page 2: The Carroll civil case against me is a Miscarriage of Justice and a total Scam. The trial was very unfair, with the other side being able to do and present virtually anything they wanted, and our side being largely and wrongfully shut down by an absolutely hostile, biased, and out of control judge. My lawyers, due to their respect for the Office of the President and the incredulity of the case, did not want me to testify, or even be at the trial…..
As RadarOnline.com previously reported, recently, Carroll amended her $10 million lawsuit to add claims over comments Trump made against her after losing the separate lawsuit.