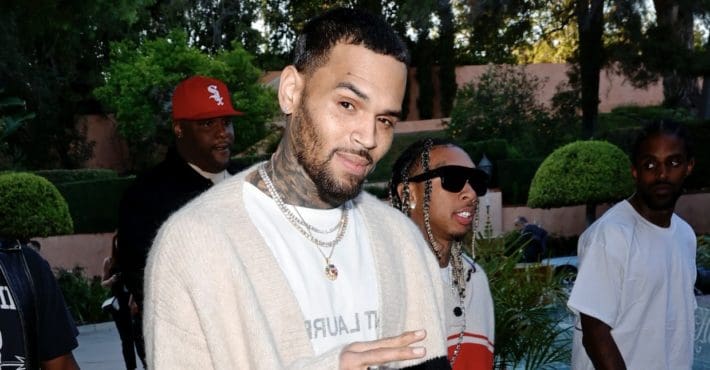 Chris Brown's dog allegedly attacked a housekeeper and no one came to her side despite the worker "screaming in terror and calling out for help."
via: Radar Online
Brown scored a small victory after a judge agreed to push back the trial start date in the singer's war with his ex-housekeeper — over a brutal dog attack she claimed he tried to cover up, RadarOnline.com has learned.
According to court documents obtained by RadarOnline.com, earlier this week, Brown asked the Los Angeles Superior Court judge presiding over the $71 million lawsuit to push the scheduled trial date of September 26, 2023, to the end of December.
In his filing, Brown said his ex-housekeeper, who brought the case using the pseudonym Jane Doe, would not be harmed by the trial being pushed.
Brown said the woman is still being treated under workers' compensation and because her treatment is ongoing, he is unable to obtain key evidence to fully evaluate her claims.
The housekeeper opposed the trial date being changed. Doe argued the lawsuit has been pending for quite some time and Brown's legal team should be prepared.
She argued Brown had failed to present the court "with any good cause for their lack of diligence in discovery."
The judge ended up siding with Brown at a recent hearing. The trial will now start around Christmas.
As RadarOnline.com previously reported, Doe sued Brown in July 2021. She claimed to have been severely injured after his dog attacked her on December 12, 2020.
Doe said she was unaware Brown allowed large "vicious biting, killer attack dogs" to roam around without a lease.
Doe, who was working at Brown's mansion in Tarzana, Cali., said Brown's Caucasian Orvchake/Caucasian Shepherd dog named Hades mauled her while she was emptying the trash outside.
Doe said the dog "savagely" bit her face, her arms and other parts of her body. She said the animal ripped large chunks of skin off her body.
The housekeeper said she laid on the floor bleeding profusely and was "barely able to see as blood" covered her entire body.
Doe claimed that Brown approached her while talking on the phone. She claimed he instructed his team to grab all his dogs and remove them from the home.
She accused him of essentially having his security team "destroy evidence and flee the scene." Doe said she feared she would die from the incident.
Doe claimed Brown took responsibility when police arrived at the home. The lawsuit believes she's owed an 8-figure sum for her alleged emotional and mental distress.
The singer denied all allegations of wrongdoing. He accused Doe of causing her injuries when she "teased, abused and mistreated" the dog and thereby "provoked the attack."
Brown's lawyer wrote, "[Doe] invited the injuries now complained of and assumed the risk of them with full knowledge of the magnitude of that risk, in that she knew her foregoing conduct might cause the dog to attack her, and seriously injure her, both of which events are alleged to have occurred."
The entertainer said Doe didn't deserve a dime and asked for all claims to be dismissed.