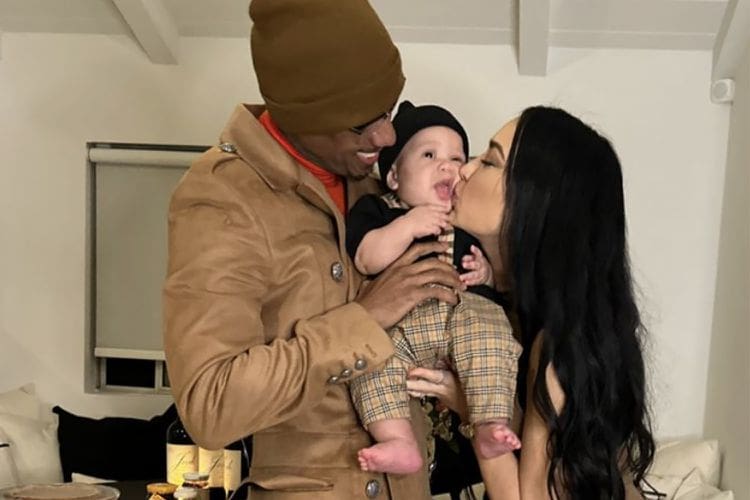 Brie Tiesi and Nick Cannon's relationship is a hot topic on 'Selling Sunset.'
In the third episode of season 6, Bre Tiesi — one of Nick Cannon's harem of baby mama's and the latest agent to join Netflix's hit reality TV series, claims she knew all about Nick's kids.
However, costar Chelsea Lazkani tells the other agents in the fourth episode about an off-camera moment when Bre found out that Nick was having yet another baby.
"So, she pulled up her phone and she turned it to me," Chelsea begins. "It said, 'Nick Cannon welcomes child with LaNisha Cole.'"
Nick gave birth to daughter Onyx Ice, born just three months after Nick and Bre welcomed son Legendary Love, now ten months.
According to Chelsea, Bre seemed "very surprised" and "was very upset."
"This was like, completely a secret," Chelsea assesses, later adding, "Ultimately every additional baby is time taken away from the bond that your child and their father is gonna have."
The agents start to debate Bre's relationship with Nick. "Bre did say that they're allowed to have relationships, right?" costar Heather Rae El Moussa asks.
"But I think open relationships are based on communication and everybody being on the same page. If something's not adding up or something's not making sense, it's because it's not working as perfectly as one may portray it working. She's not a sister wife," Lazkani answers.
"But his decisions, she didn't have a part in that," argues Nicole Young.
"But she did have a part in making the decision to be a part of it in the first place," Chelsea replies.
She adds that she thinks that Nick could be a "master manipulator" and that she doesn't believe all his children are getting the love and support they need.
In the fifth episode, El Moussa, Amanza Smith, and Chrishell Stause further discuss Tiesi's situation while seated on an outdoor balcony.
"So Chelsea was saying that Bre seemed put off or emotional about the situation, that she maybe didn't know about this," Heather explains to Amanza and Chrishell.
"Obviously, Bre is sensitive about a very personal topic," says Chrishell, who was there with Chelsea and Bre when the baby news came out. "She was, you know, really emotional," she affirms.
"It felt like to me Chelsea was concerned that Bre's baby was going to have an absent father now or something," Amanza says. "And then lowkey blames Bre and Nick, or whatever. Because Chelsea's situation, she has a great husband. She's still married, two kids, a supportive husband. Not everybody gets that picture-perfect household," she asserts.
The agents continue to discuss Bre's situation, saying there's not a big difference in marrying your baby's father or not. "There's so many ways to have a family," Stause says, as Smith adds, "Nick sounds like an awesome dad."
When Bre finds out her co-worker has been discussing her relationship behind her back, a heated confrontation takes place over dinner in Palm Springs in the eighth episode.
We won't ruin the entire series for you — but we're willing to bet Bre had no idea Nick was having another child — let alone several.