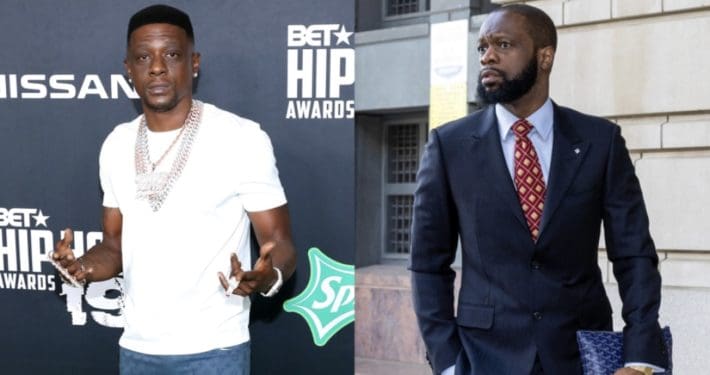 Boosie Badazz isn't shying away from sharing his thoughts on Fugees rapper Pras, who faces up to 20 years in prison after he was found guilty for his participation in a conspiracy scheme in which millions of dollars were used to influence U.S. government officials.
via: Vibe
During an interview with VladTV, Boosie was asked about Pras' actions and whether or not he was surprised. The Louisiana native said he wasn't shocked at the revelation and claimed that the industry was overrun by "rats."
"It's a worldwide movement, bro. It's a worldwide movement of rats. And it's turning out the music industry is full of 'em," Boosie asserted. "There's more rats in the music industry than the streets. Because I think they don't wanna lose.
"You know? They don't wanna lose this lifestyle. That's how they develop into rats, because they want all this sh*t but they don't wanna lose it. And they figure they can go get it back when they come home."
The "Wipe Me Down" rapper continued, speaking about how the children are directly impacted by the "rat's" actions.
"Most of the time, when those snitches, whatever they do, they end up dying, deaths. They end up living horrible lives. … The people who supporting rats don't give a f**k about children. Those children suffer when you rat on that f**king family and that daddy. That child grows up without a daddy, that child grows up without a mother. So, anybody supporting f**king rats, they don't give a f**k about a kid."
In April 2023, The Fugees' Pras Michel was found guilty on 10 criminal counts in the federal conspiracy trial.
According to CBS News, prosecutors labeled Pras' actions as a "clandestine foreign influence campaign scheme" to assist Malaysian businessman Jho Low get closer to former US presidents Barack Obama and Donald Trump and illegally fund part of their campaigns.
Michel testified that he met with FBI agents to discuss Chinese billionaire Guo Wengui and three Americans who were being held hostage in China.
"I took it upon myself to report because I thought the FBI should know," he explained. Furthermore, the musician opened up about Low paying him $20 million to secure a photo of Low and Obama. Prosecutors argued that over $800,000 of those funds were redirected to former President Obama's reelection campaign.
Pras hit back at the claims, asserting that Low's money was a gift. David Kenner, the artist's attorney, added, "This is all about a highly valuable photo. He was trying to make money…it is not illegal."