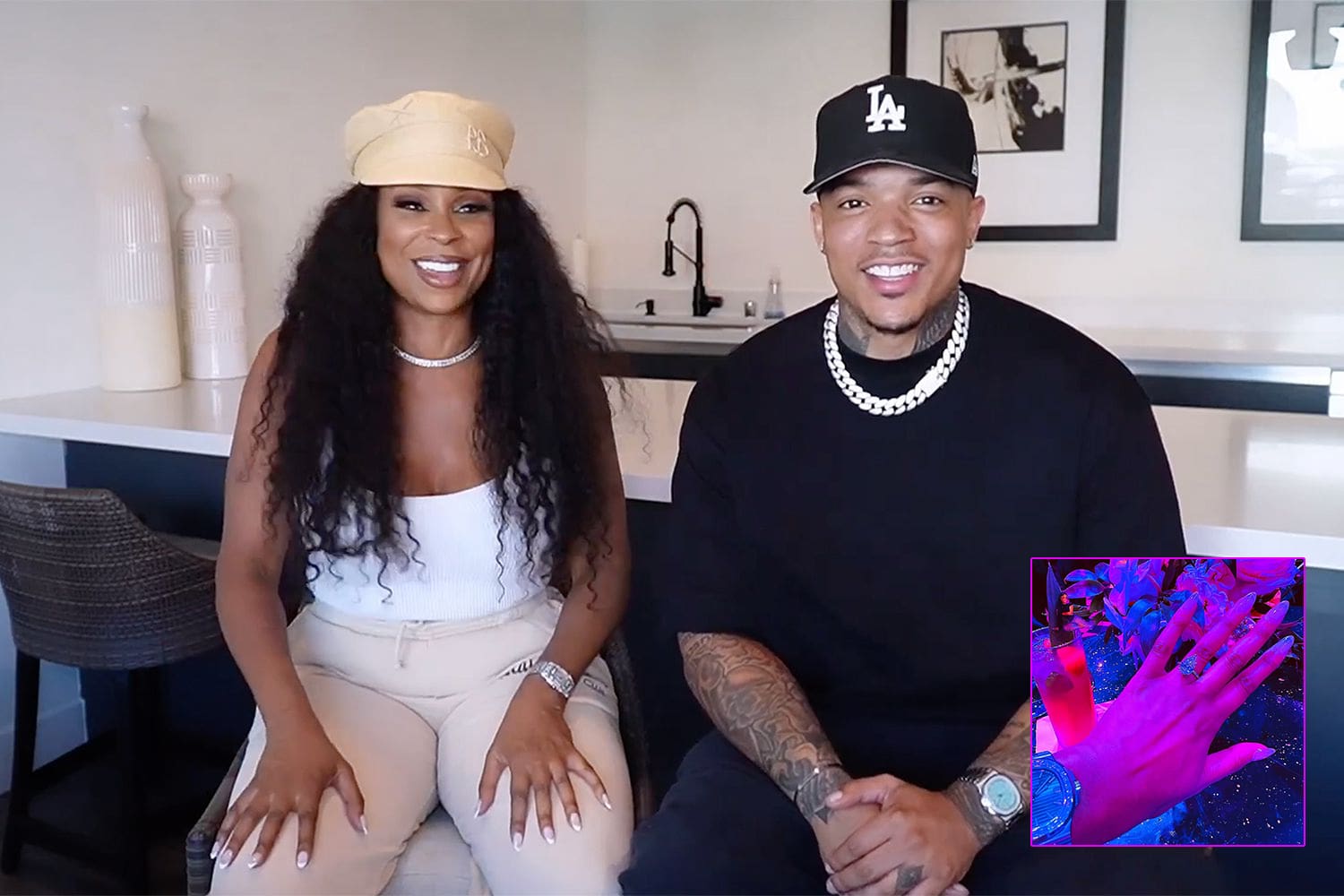 'Basketball Wives' star Jennifer Williams is engaged to boyfriend Christian Gold.
She announced her engagement via Instagram, sharing a photo of the pear-shaped diamond ring Christian proposed with.
We don't know too much about Christian, but we're hoping we get to learn more about their seemingly-quick romance on this upcoming season of 'Basketball Wives.'
According to his Instagram bio Christian is an investor who refers to himself as an "8-Figure Wealth Portfolio Manager."
That bio concerns us a bit…but this is a celebratory post, so we'll move on.
via People:
As she celebrated her engagement, Williams posted a photo on her Instagram Story that appeared to show the moment after Gold proposed. She showed the engagement ring to a friend while covering her face with her hands as she cried tears of joy.
"Faith & manifestation at its finest! You already know," Williams captioned the photo with her friend.
The couple took their romance public in June when Williams wished her beau a happy birthday on Instagram with a photo of the two enjoying a drink together.
"Happy birthday to the one," she wrote in the post's caption. "This picture describes us, pure bliss. I pray God continues to bless you on this trip around the sun. Wishing you peace, love and many more blessings. I love you ??."
In early August, the couple took to Gold's Instagram page to explain to curious fans how they first met and to publicize their new YouTube channel, Life with Jen & CG.
"So I've seen a lot of comments about, 'Well how did you guys meet?'" Williams began in the clip that featured the twosome casually sitting side-by-side in a kitchen. "So we're about to talk about how we met!"
Without revealing the location and date of when they first laid eyes on each other, Gold told viewers, "So I walk around the corner and I turn and I see this beautiful woman."
They both agreed that there was a mutual "connection," they noted, without adding detail of their topics of conversation.
"We hugged each other," Williams recalled before Gold clarified, "We hugged each other but it wasn't a church hug."
After that meeting, Gold wanted confirmation from his friends that they too had noticed a spark between him and Williams.
"I hit my boy up like, 'Bro, I know that you saw what I saw. No, like, Did you see a connection?'" he asked.
Williams added, "I texted [ex-Basketball Wives costar] Imani [Showalter] and I was like, 'Hey, what's up with light skin?' " referring to Gold. "And she's like, 'Oh my God, this sounds great. Like, he sounds like a great guy. How old is he?' And I was like. 'Oh, s—, I don't know!' "
Last June, the news of their romance surprised the Redefined cosmetics founder's fans, who seemed to know little about Gold, who is yet to make his appearance on Basketball Wives.
"Huh? What happened to the other guy from the show?" one fan asked via Instagram, referring to Williams' former boyfriend Jelani Harrison, whom Williams said she had not been in a relationship with since 2022.
Fans of the VH1 reality TV series witnessed the breakdown of Williams' marriage to her ex-husband, former NBA star Eric Williams, whom she divorced in 2010.
Season 11 of Basketball Wives will return to VH1 this fall.
View this post on Instagram