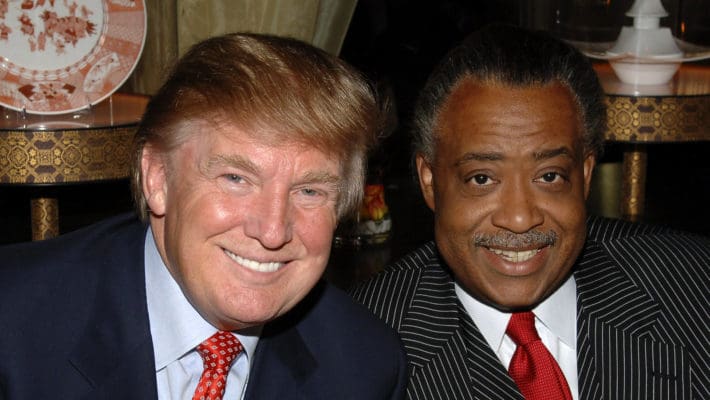 For a brief history lesson, in 1989, Trump, who was then a prominent New York City businessman, took out several full-page newspaper advertisements calling for New York City politicians to reinstate the death penalty following the brutal rape and attack of a female jogger in New York City. Five youth, Yusef Salaam, Korey Wise, Antron McCray, Raymond Santana, and Kevin Richardson, were wrongfully imprisoned for 7-13 years until the attacker was caught. They had been coerced into giving false confessions and received substantial settlements. All are involved in criminal justice activism efforts now. Trump never formally apologized to the five, especially since he took out the ads before their trials began.
via: Revolt
"Black men need to know they were all young Black men. One spent 13 years in jail. He was with us for the March on Washington on Saturday," Sharpton stated. "Let them come and tell the rappers and other Black men being seduced by Trump what he did in his hometown to innocent to Black men."
The reverend also recalled Trump supporters attempting to characterize him as a gangster rapper in an attempt to avoid legal accountability. Sharpton pointed out the comments made by conservatives on Tuesday (Aug. 29). They stated that Trump's mugshot and felony charges make him more appealing to Black people, especially Black men.
Sharpton added that he plans to keep an eye on the upcoming presidential election. "I'm going to keep tracking the 'Trump is popular with Black men' narrative in the lead-up to the 2024 election. Though it's lacking in evidence, I have a feeling Republicans will keep repeating it like a mantra, hoping to make it a reality."
See a portion of his conversation below.
.@TheRevAl: "If they want to cite how Blacks have been abused by the criminal justice system, cite the case where we marched and eventually it was proven that these five young men that Donald Trump called on to get the death penalty, were in fact innocent." #TheReidOut pic.twitter.com/3toDjeAGv4

— The ReidOut (@thereidout) August 29, 2023