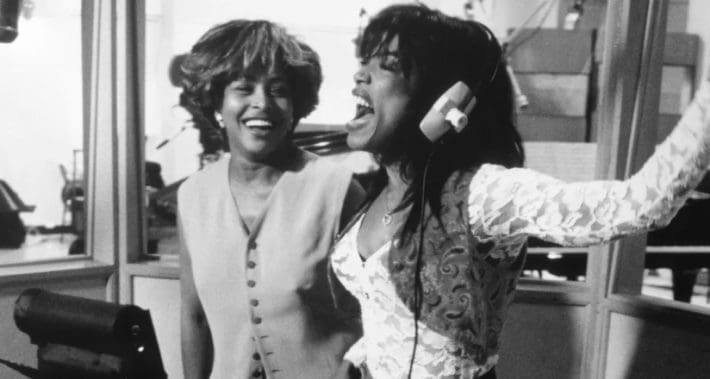 Angela Bassett was a young actress on the rise in the early 1990s when she had the life-changing opportunity to play Tina Turner in the iconic biopic What's Love Got to Do With It. Bassett earned her first Oscar nomination for the role, portraying the "Proud Mary" singer in all her complexities and immortalizing the queen of rock 'n' roll's story on screen forever.
via: Vibe
30 years later, Bassett is among the 2023 class of TIME 100 Most Influential People honorees, and Turner has penned a touching tribute to the Oscar-nominated actress.
"Someone's going to play me in 'What's Love Got to Do With It?' I was a little bit skeptical when work began on the 1993 film," wrote the Queen of Rock, 83. "First of all, who are they going to find to sing, dance, and act like me? Then, I looked up, saw Angela, and immediately started to smile."
She then spoke to the Black Panther star directly. "Angela, the first time we met, you didn't look, sound, or move like me—that came later after you worked so hard to make it happen. But even then, I could see that the young woman standing before me had strength, determination, and big, big dreams, just like me," Turner continued.
"'She's perfect,' I said, and I was right," wrote the "Proud Mary" phenom. "You never mimicked me. Instead, you reached deep into your soul, found your inner Tina, and showed her to the world. That's your gift, becoming your character with conviction, truth, dignity, and grace, even when it's painful, and takes everything you have and more. It's not just acting, it's being."
Turner concluded, "Whether you're Tina Turner or the Queen of Wakanda, we believe in you because you believe in yourself. You honor all the women you play, just as you honored me. And you're still perfect."
For this year's TIME100 list, Beyoncé, Michael B. Jordan, Zoe Saldaña, Brittney Griner, Steve Lacy, Doja Cat, and Gina Prince-Bythewood have also been named as some of the most influential people.
Read the full Times profile here.