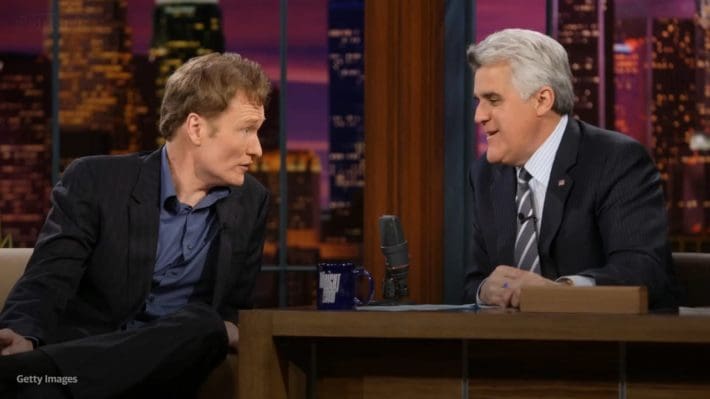 Conan O'Brien's feud with Jay Leno back in 2009-10 was quite the event.
via: Radar Online
O'Brien is still carrying a bitter grudge against former late-night rival Jay Leno, RadarOnline.com has learned.
According to sources close to the situation, the short-lived Tonight Show host continued to seethe because he believes Jay ruined his late-night career by reneging on his word and returning to take the show back after handing him the reins.
"It still sticks in Conan's craw to this day," a friend said. The redhead, now 59, was riding high with his Late Night With Conan O'Brien talk show when he signed a 2004 contract allowing him to succeed Leno on The Tonight Show beginning in 2009.
But O'Brien's run as host was brief — because just six months into the role, he was ousted and Leno returned!
"Conan's convinced Jay went behind his back after Jay had second thoughts about leaving the late-night platform, and he feels he never got the chance to show what he could really do," said the source.
"Conan has never forgiven Jay and has never talked to him in all the years since. He's got a dart board at home with Jay's face on it."
For his part, 72-year-old Leno has denied he forced O'Brien out. Ironically, he later found himself on the bread line when NBC replaced him with Jimmy Fallon in 2014.
Meanwhile, TBS canceled O'Brien's post-Tonight Show talk show and comedy show, Conan, in 2021 after viewership dwindled to an embarrassing 282,000.
In 2021, Leno spoke out about the drama with O'Brien. He denied he "deliberately sabotaged" O'Brien's deal with NBC.
"That doesn't work," Leno said. "It doesn't work that way. You try and do the best you can and it didn't work."
Leno defended his decision to stay at NBC despite the drama. "Sometimes the czar you have is better than the one you're going to," he said. "Then you have your old team shooting at you as well. I just figured let's just play this out and see what happens. This all happened fairly quickly."
Leno admitted he debated about leaving NBC for ABC, where Jimmy Kimmel has his late-night show.
As RadarOnline.com previously reported, Leno has been recovering from a motorcycle accident that went down in January. The comedian had to undergo surgery for fire burns.