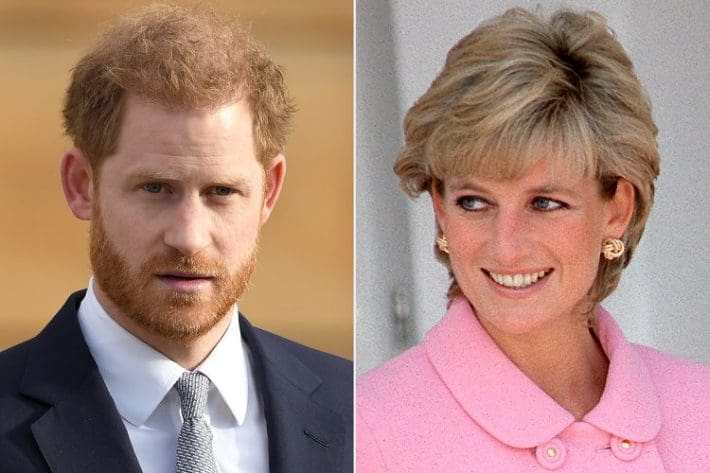 Prince Harry has broken open the cookie jar of his life even more so than he already had and let a doctor dig in deep during an hour-plus sit-down who even diagnosed him.
via: People
The Duke of Sussex, 38, participated in a virtual book event on Saturday with Dr. Gabor Maté, an expert specializing in trauma, addiction, stress and childhood development, to discuss his groundbreaking memoir.
Seated across from each other before a crackling fireplace, the Duke of Sussex and Maté, author of The Myth of Normal: Trauma, Illness, and Healing in a Toxic Culture, discussed living with loss and the importance of personal healing. Harry brought up how he related to his mother Princess Diana over feelings of not fitting in with the rest of the royal family.
"Certainly throughout my life, throughout my younger years, I always felt slightly different to the rest of my family," he said. "I felt strange being in this container, and I know that my mum felt the same. It makes sense to me — it didn't make sense at the time — I felt as though my body was in there, but my head was out, but sometimes it was vice-versa. The times that I ventured towards being myself, being my authentic true self, whether it was through media or family or whatever it was, it was almost like, 'Don't be yourself, come back to what you're expected to be,' if that makes sense."
Prince Harry also said that writing Spare was a release, and stressed why it was important for him to be honest about his life story.
"I really hope, and I hoped right from the beginning, when I turned around to the people that were helping me write this book, I said, 'I want this to be an act of service, it needs to be, because I know important it is, because you're almost giving permission for people to talk about their own stuff, and be their own selves, and society doesn't really help us," he told Maté. "And I would say even more so within my family, because of the expectations and because of how you're cast as individuals."
Speaking of his time in therapy, Harry said, "A lot of families are complicated, a lot of families are dysfunctional, but for me when I was doing therapy regularly… I felt that I learned a new language."
Sharing that other members of his family "didn't speak that language," he added, "This is working for me and I'm starting to go back to the point of trauma and unpack everything so I can be truly happy… but at the same time I'm feeling more and more distant from my loved ones and my family."
PEOPLE exclusively revealed the news of the livestream event last Friday, six weeks after Spare hit shelves. The book became an instant New York Times bestseller and remained at the #1 spot on the New York Times Hardcover Nonfiction bestseller list for six consecutive weeks.
English-language sales for Spare top more than 4 million copies with over 1.43 million units purchased on the first day it was available, making Spare the fastest-selling nonfiction book of all time.