At this year's MTV VMAs, Peso Pluma made history as the first-ever regional Mexican artist to grace that particular stage. The one born Hassan Emilio Kabande Laija has shot to superstardom behind several Billboard Hot 100 hits, such as "Ella Baila Sola," and his July album, Genesis. However, the heightened exposure hasn't come without some dangerous consequences.
via: USA Today
The Mexican singer, who is currently on his Doble P Tour, was scheduled to perform at Estadio Caliente in Tijuana, Mexico on Oct. 14. However, Pluma's record label Prajin Music Group announced in a statement Wednesday that the concert has been canceled.
"Our objective is to protect the fans and the team," the statement, which was shared on Pluma's and the label's Instagram stories, read in Spanish. "For the security of everyone involved, we will be canceling our show in Tijuana. Many thanks to all of our fans for understanding. We love you."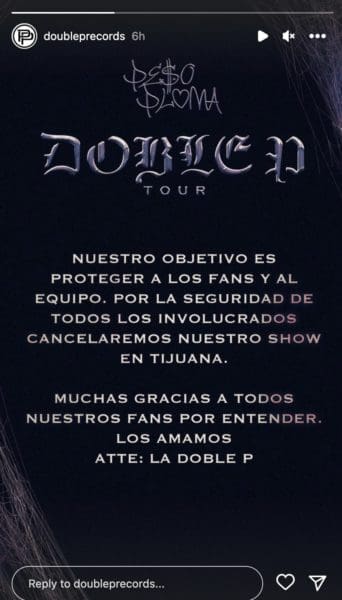 The cause of the concert's cancellation was not disclosed in the announcement.
The concert cancellation is the latest in a string of scrapped performances for the regional Mexican singer, who was threatened by a Mexican cartel last week ahead of his October Tijuana show.
USA TODAY has reached out to Pluma's representative for further comment.
A banner threatening the 24-year-old, whose real name is Hassan Emilio Kabande Laija, was posted on a bridge in the border town of Tijuana on Sept. 12. It was signed by the Jalisco New Generation Cartel, reported The Arizona Republic, part of the USA TODAY Network.
"This goes to Peso Pluma. Refrain from presenting yourself on October 14 because it will be your last show due to your disrespect and loose tongue. You show up and we are going to (break you)," the banner said.
Pluma's concert at the Fiserv Forum in Milwaukee, which was set for Sept. 14, was postponed "due to unforeseen circumstances," as well as his shows in Rosemont, Illinois, and Indianapolis on Sept. 15 and Sept. 16, respectively.