Kylie Jenner and Travis Scott want to make their son's name change official in the eyes of the law.
via: The Blast
The baby formally known as Wolf Jacques Webster is now officially and legally known as Aire Webster. Kylie and Travis decided to change their son's name soon after her was born because he didn't feel like a "Wolf" to her.
Now that she has settled on Aire, all the legal documents are in and the change is official. The couple decided to drop Jacques as his middle name giving him his own identity seeing as Travis Scott's real name is Jacques Bermon Webster II.
In the court documents obtained by The Blast, it says , "Petitioners regret the initial name choice of Wolf Jacques Webster. Now that the Petitioners have had the chance to spend time with their baby, they believe the name Aire Webster is a better fit."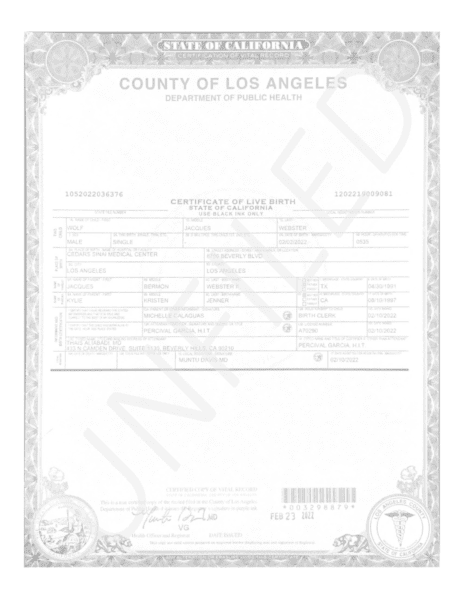 The parents of two didn't even officially reveal their son's name basically until they were ready to announce the change to Aire. Fans spent weeks deciphering Kylie's subliminal codes. When Aire was 11 months was when Kylie and Travis officially called it quits on the quirky moniker.
"We just really didn't feel like it was him. Just wanted to share because I keep seeing Wolf everywhere," wrote Kylie in an IG Story back in January.
At the time, she never mentioned anything about dropping his daddy's name as his middle name but clearly now, that change has been confirmed as well.
Kylie again was pretty secretive about her second pregnancy but when Wolf, sorry Aire arrived, she announced it on February 7 via Instagram and shares that her first boy has arrived five days before that.
This was a big deal seeing as Kylie is pretty quiet about her private moments and special dates. But now she can't get enough of sharing cute videos of her kids last month she shared a post celebrating Aire's first birthday.
"AIRE. my son, my moon, my stars. best year of my life with you. you complete us my angel. mommy loves you. happy 1st birthday. may God always bless you," she captioned the post, a sweet video compilation of her son's first year.
Before that Kylie debuted "AIRE" with a compilation of sweet photos of her curly-haired son who is big sister Stormi's twin. The mom of two was proud of her boy and grandma "Kris wrote, I love you Aire Webster " and aunty Koko called him "The king!!! Young king!!!!!."