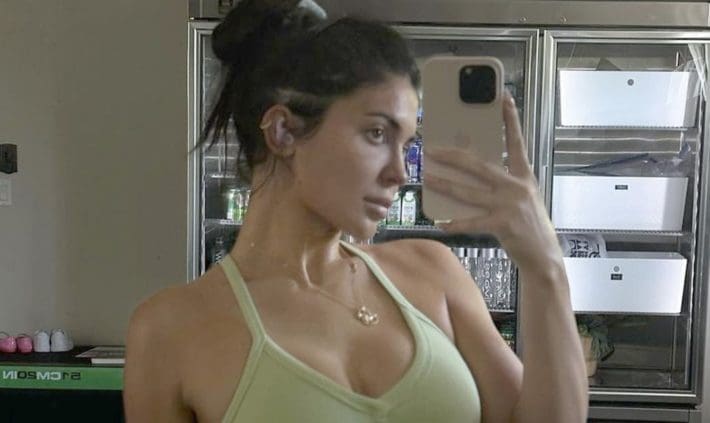 As a mother to two youngsters, Kylie Jenner has chosen to be more forthcoming with the cosmetic procedures she has had done over the years.
via: Page Six
On Thursday's episode of "The Kardashians," the makeup mogul finally admitted to getting a boob job after years of denying she'd had plastic surgery — and she's not exactly thrilled with the results.
In the season finale, Jenner, 25, revealed she got her "boobs done" shortly before getting pregnant with daughter Stormi Webster, who was born on February 1, 2018.
"I got my breasts done before Stormi … not thinking I would have a child when I was 20," the Kylie Cosmetics founder said in a confessional on the Hulu show.
"Like, they were still healing. I had beautiful breasts. Natural t–s. Just gorgeous. Perfect size, perfect everything. And I just wish, obviously, I never got them done to begin with," Jenner continued in a dramatic monologue.
"I would recommend anyone who is thinking about it to wait until after children," the mom of two, who welcomed a son in Feb. 2022, concluded.
The about-face comes after years of denial from Jenner, who told fans on Twitter in 2016 that her increased breast size was due to "that time of the month" and that they would "deflate."
She also said she wore the Victoria's Secret Bombshell push-up bra ($70), which promises to boost the wearer's bust by two cup sizes.
"I don't share this with a lot of people, but everyone thinks I've gotten breast augmentation recently, but I haven't," she said on her now-defunct website in 2015, per People.
"I just use the Bombshell by Victoria's Secret. It's life-changing. I've gotten all my sisters on it and all my friends."
The youngest Jenner sister said she regrets her decision after having her daughter, sharing, "I would be heartbroken if she wanted to get her body done at 19."
Added the star, "She's the most beautiful thing ever. I want to be the best mom and best example for her. I wish I could be her and do it all differently because I wouldn't touch anything."
In last Thursday's episode of "The Kardashians," Jenner attempted to shut down rumors that she's undergone major plastic surgery procedures over the years — despite later changing her tune.
"One of the biggest misconceptions about me is that I was this insecure child and I got so much surgery to change my whole face, which is false," she said during a talk with sisters Khloé and Kourtney Kardashian about their influence on beauty standards.
"I've only gotten fillers. I don't want that to be part of my story," the mom of two continued.
The reality star (who first admitted to getting lip fillers at 17 after much speculation) explained that while growing up, she was "the most confident kid in the room."
"I always loved myself — I still love myself," Kylie added, before admitting that she's been hurt by her siblings' scrutiny over the years.
Kylie told Khloé and Kourtney that because they once mocked her ears, she wore her hair down and hid them for "years" — but loves that Stormi inherited the same features.
"she wanna be a natural beauty so bad ? she only fooling herself chi," one person tweeted following the episode.
Another wrote, "So what's she's saying is she's never had cosmetic surgery apart from the bit of cosmetic surgery she had done…," while a third declared, "And you filled that ish to unrecognition [sic]."
Now that Kylie has gotten one secret off her chest, perhaps she'll be more candid moving forward.