Kim and Kanye have both officially put their separate Los Angeles pads on the market! The timing may be purely coincidental, with sources citing Kim is ready to trade up for more security. She recently listed her five-bedroom, four-and-a-half-bathroom, Tuscan-style mansion for close to $5 million.
The property also features  a media room, a pool, an outdoor living and dining room, dark hardwood floors and a two-story entry. Sources say she wants to move into a gated community. We don't blame her.
Kanye, on the other hand  recently put up his home that he purchased for a reported $1.75 million back in 2003. It's now being listed for around $4 million.
Kanye's crib features a  ceiling mural in the dining room and French walnut floors throughout. The contemporary home showcases stellar city views and a built-in aquarium in the master bathroom.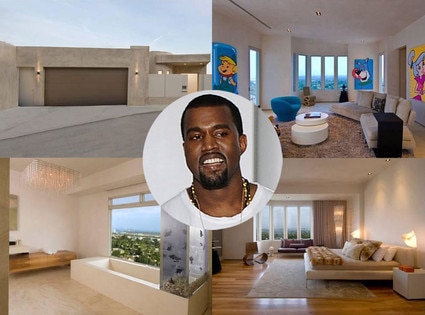 We should mention that both properties are being "pocket-listed", which means they're both private and won't show up on any advertisements. Secrecy is key with these two!
[source]