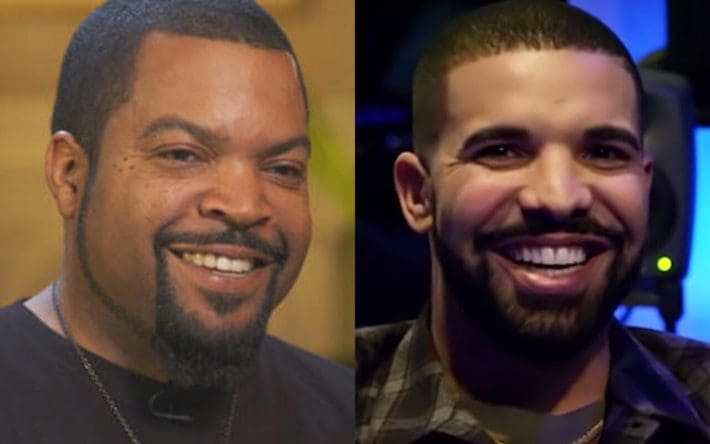 Ice Cube says Drake should sue whoever made the AI-generated track 'Heart On My Sleeve'.
via: AceShowbiz
Posted by TikTok user Ghostwriter977, the track used Artificial Intelligence to generate vocals that sounded just like musicians Drake and The Weeknd.
Reportedly racking up 230,000 plays on YouTube and more than 625,000 on Spotify, the song became a huge viral hit. It is, however, no longer available on services including Apple Music, Spotify, Tidal, and YouTube.
And the 53-year-old rapper insists he would take legal action if anyone made a song with his vocal likeness. Speaking on the "Full Send" podcast, Ice said of the track, "I don't wanna hear an AI Drake song. Yeah. I don't wanna hear that bull****. He should sue whoever made it."
The "Gangsta Rap Made Me Do It" hitmaker blasted AI songs as "demonic." He continued, "Imma sue the motherf**** who made it and the people and the platform who play it. It's like a sample. Somebody can't take your original voice and manipulate it without having to pay. I think AI is demonic, I think AI is going to get a backlash from organic people."
Although many artists have voiced their concerns, including Sting and Nick Cave, experimental pop artist Grimes loves it so much, she has created her own AI song generator software, Elf.Tech, and is asking fans to create songs as long as she gets 50 per cent of the royalties.
She tweeted, "You can use Grimes name and likeness (I humbly ask that you please be tasteful tho). Grimes is now open source and self replicating. "in exchange for a Grimes feat and distribution (sic)."
Recently, Sting, 71, waded into the ongoing debate regarding the use of AI software to mimic well-known musicians and admitted it's "going to be a battle" for the music industry. He told the BBC, "The building blocks of music belong to us, to human beings."
"That's going to be a battle we all have to fight in the next couple of years, Defending our human capital against AI. The tools are useful, but we have to be driving them," he said. "I don't think we can allow the machines to just take over. We have to be wary."