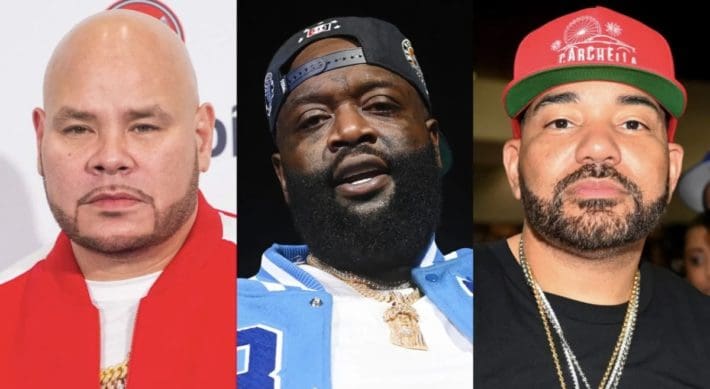 Fat Joe has weighed in on Rick Ross and DJ Envy's ongoing beef and says he's not a fan of how personal the attacks are getting online.
via: Complex
As Rick Ross and DJ Envy continue to exchange shots on social media ahead of their competing car shows, Fat Joe has shared his thoughts on the escalating beef, admitting that he doesn't support the direction in which it's headed.
The Terror Squad rapper hopped on Instagram on Monday to urge Rozay and Envy to make peace.
"Don't like what's going on with Rick Ross and DJ Envy," Joe said. "Don't like it. I love 'em both. Beautiful men in their own right, successful, do their thing. I don't like where it's going. I know I've had my share of beefing with people, but I don't like it because they're both beautiful, beautiful people."
Fat Joe's remarks arrived hours after the beef between Ross and Envy escalated, with the latter poking fun at the Miami rapper's past experience as a correctional officer, and the former bringing The Breakfast Club host's wife into the mix.
On Monday, Envy showed up to The Breakfast Club wearing a police uniform and referring to himself as "Officer Ricky."
"You started off as a football player," Envy said about Ross. "They kicked you off the team because you would stand by the showers and watch the boys take a shower. Then you moved to corrections and what did you do? You watched the boys take a shower."
Envy added, "You think I'm Big Meech? No, you're Officer Ricky. I think I'm Larry Hoover? No, you're Officer Ricky."
On Tuesday, Ross responded by offering Envy's wife a job as his "pickle ball paddle polisher."
"It's the Biggest Boss," Rick Ross said in an Instagram video. "June 3rd, I'm providing jobs. DJ Envy-ous, I got a job for your girlfriend. This is a one time opportunity. Your girlfriend has the opportunity to be my pickleball paddle polisher. My pickleball paddle polisher! You hear me? Let her know. While they cleaning the pools…Yeah! Enjoy your day."