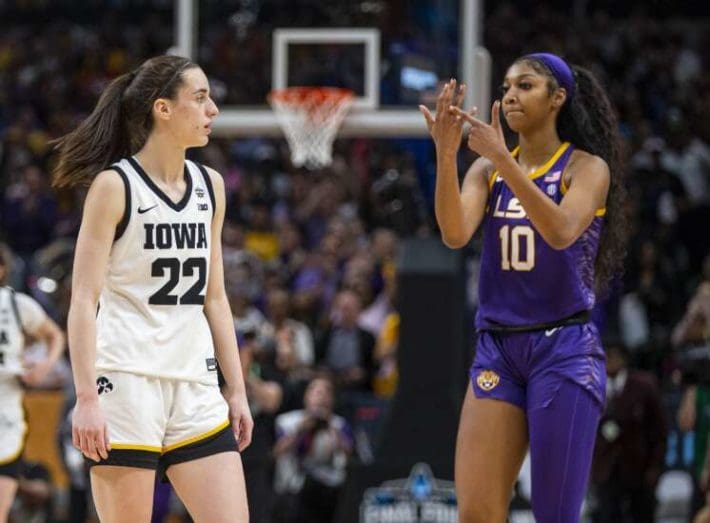 Angel Reese has an unlikely ally, Iowa star Catlin Clark is coming to the defense of the newly crowned NCAA champ, straight up saying "I don't think there should be any criticism for what she did."
via: New York Post
The 21-year-old Iowa star appeared on ESPN's "SportsCenter" for an interview with Jeremy Schaap on Tuesday afternoon.
Asked about the controversy in which Reese hit her with the John Cena "You can't see me" hand gesture, Clark at first said that she has not been on social media since Iowa's national championship game loss to LSU.
Nevertheless, Schaap continued to press about what "might account" for the difference in how people reacted to Reese's trash-talking versus when Clark did it to opponents in earlier tournament games.
"We're all competitive. We all show our emotions in a different way," Clark said.
Caitlin Clark shares on OTL that she doesn't want to go to the White House despite Jill Biden's stated interest in hosting her and the Iowa team.

"I don't think runner-ups usually go to the White House. I think LSU should you know enjoy that moment for them" pic.twitter.com/3SDePqXUll

— Awful Announcing (@awfulannouncing) April 4, 2023
"Angel's a tremendous, tremendous player. I have nothing but respect for her. I love her game, the way she rebounds the ball, scores the ball is absolutely incredible. I'm a big fan of her. Even the whole LSU team, the way they played. I don't think there should be any criticism for what she did.
"I honestly didn't see it when the game was going on and like I said I haven't been on social media at all."
Asked about the difference between how trash talk is perceived when it comes from men's players versus women, Clark said she had no plans of toning down her competitive fire.
"Yeah, I mean, I think men have always had trash talk," Clark said.
"That's what it's been. More and more people as they turn on the game are appreciating it for what it is. I'm just lucky enough that I get to play this game and have emotion and wear it on my sleeves, and so does everyone else.
"That should never be torn down or never be criticized. I believe that's what makes this game so fun. That's what draws people to this game … You should be able to play with that emotion. That's what makes it so fun.
ANGEL REESE TO CAITLIN CLARK ? pic.twitter.com/2NY0CEzwJ3

— SportsCenter (@SportsCenter) April 2, 2023
"Nobody wants to tune in and see it not be competitive and passionate about what they're doing. I believe that's how it should be. That's how I'm gonna continue to play. That's how every girl should continue to play."
Clark was also asked if she would want to go to the White House as a runner-up, as first lady Jill Biden had suggested earlier.
"I don't think runners-up should go to the White House," Clark said.
"I think LSU should enjoy that moment for them, and congratulations obviously. They deserve to go there. Maybe I could go to the White House on different terms. That's for LSU. That's a pretty cool moment and they should enjoy every second of being a champion."
Let's move on now.